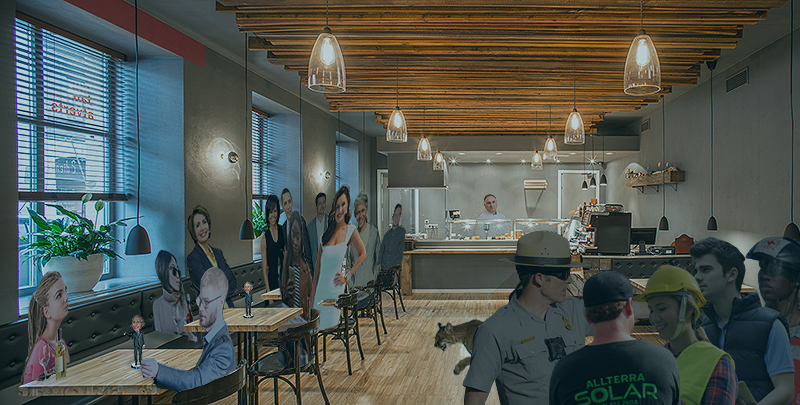 Jobs, Jobs, Jobs

  By Frank F Islam & Ed Crego, May 27, 2020
President Donald Trump and Republicans in the Senate have stated there is no need, at this point in time, for additional stimulus dollars to respond to the Covid-19 pandemic.
They are wrong. There is a desperate need.
States and local government need financial support to maintain the essential health, education and public services they provide for their citizens. Those small businesses that will survive the cataclysmic crash that has occurred will need financial support to manage during a slow economic recovery. And those who are and will be without jobs need jobs.
Job creation is crucial. Here's why.
Nearly 39 million people have now filed for unemployment since mid-March. Reports indicate that there are millions of others without jobs who do not qualify for unemployment. It is projected that 40 percent or more of the people who have been laid off or lost their jobs due to the pandemic will not get them back.
This is not the Great Recession. It is far worse. But there is something that can be learned from the timid governmental response to that recession.
Here is the advice that Neel Kashkari, currently President and Chief Executive of the Federal Reserve Bank of Minneapolis who oversaw the Troubled Asset Relief Program for Presidents Bush and Obama, gave in a Washington Post op ed in late March:
While the U.S. economy can bounce back from a crisis fairly quickly, it took more than 10 years after the 2008 crisis to rebuild the labor market. We can't let that happen again. Let's learn from history and douse the raging fire — before it becomes uncontrollable.
The job condition may not be uncontrollable, yet it is rapidly approaching it. It is time for the Congress to pass, and the President to sign, a massive and targeted jobs bill.
There have been legislative approaches proposed that address the jobs crisis. But none of the breadth and depth that is sufficient for these trying times.
The $3 trillion package passed by the House on May 15 would have extended unemployment benefits for six months until January of 2021 and provided some additional breathing room for those without jobs. But it was dead on arrival at the Senate.
In the Senate, on May 5, Senators Chris Coon (D-DE) and Chris Van Hollen (D-MD) and their democratic colleagues introduced the Pandemic Response and Opportunity through National Service Act that would create 750,000 positions over a three-year time span. That bill expands national service through programs such as Americorps and the Peace Corps.
It has gained the support of more than 100 national organizations, and the Washington Post Editorial Board and Isabel Sawhill of the Brookings Institution have written approvingly of it. It also aligns with recommendations put forward by National Commission on Military, National, and Public Service in its final report, Inspired to Serve, released in March of this year.
We ourselves have been strong supporters of and have called for national service for some time. We support this new bill as well. Unfortunately, it is being given only a 1% chance of becoming a law.
Even it did, it would too limited to be a jobs bill, for two reasons. First, to address the unemployment problem adequately, millions of jobs will have to be created. Second, these national service programs — with the exception of Senior Corps — currently reach primarily those in younger age cohorts. The age cohort from 45–65 is not well covered.
There is another job-related proposal in the Senate that appears to be gaining some momentum. It is the Rehire America plan being put forward by Josh Hawley (R-Mo) and Cory Gardner (R-Co).
Their plan would provide temporary payroll support of 120 percent of a rehired employee's wages, capped at $50,000 per employee. It would also pay up to 80 percent of wages for each worker currently on payroll, capped at $50,000 per employee.
Given its construction, this is more of a business protection plan than a jobs plan. It contains little guarantee of job creation or retention.
It would also be a big business bonanza because it is open to businesses of all sizes, with support capped at the level of revenue losses. This means that big businesses would get the lion's share of this financial support, and small and mid-size businesses would get the crumbs.
That's the context, and this is why what is needed at this time is a massive and targeted jobs bill. The goal for that bill should be: To put American workers back to meaningful work in full-time jobs in as short a time frame as possible.
What should be the size and nature of that bill? We will not put a dollar amount on it. But, it should create jobs for millions of Americans.
It needs to be that large because the permanent job loss due to the pandemic will most probably be gargantuan. Multiplying the current 39 million unemployment claims times the 40% estimate of jobs disappearing means 15,600,000 jobs would be gone forever. And this does not include the millions of jobs not covered in the unemployment claims or official government numbers.
The jobs bill must be of sufficient magnitude to minimize the impact of this enormous loss for the American workers and the American economy. It must be constructed to ensure a priority focus on those low-paid workers of both sexes from the industries and groups that have been most affected by the pandemic job shutdown.
As we noted in an earlier blog, research indicates those low wage earners are disproportionately women and minorities and work in the leisure, hospitality, retail, personal service, and health care sectors. Add into this group gig workers, independent contractors and self-employed individuals. And if the federal government does not provide assistance to state and local government, include health, education, and public service job losses on the list.
In that earlier blog, we recommended establishing a federal Civilian Coronavirus Corps (CCC), similar to but different than the Civilian Conservation Corps of the Great Depression to create jobs for those workers. The CCC should be an essential component of a jobs bill. The CCC jobs should be of all types, but require minimal training and quick placement, and support the recovery of the country economically, culturally, and holistically.
One example of this type of position comes from Karl Androes, Executive Director of Reading in Motion, an exemplary program headquartered in Chicago that has taught inner city students to read at grade level or above during their early years. He recommends putting a second adult in every classroom or at least in the lower grades, K-3. That adult would function as sort of teacher's aide, helping facilitate learning in a small group, using a structured approach, while the teacher worked with another small group.
That is one creative idea for the CCC. There are countless others. Here are a few.
Given the problems in the nursing home industry, implement a home care alternative. As Joseph W. Kane of the Brookings Institution recommends, use this as an opportunity to support the hiring and training of essential infrastructure workers for occupations such as bus drivers, couriers, and telecommunications installers and repairers. Use unemployed artists to do artwork and to perform shows in communities across the country.
The CCC should be just one component of a comprehensive jobs bill. The other components should include but not be limited to:
Public Service Component: Even if states and cities get some form of stimulus package support, they will still remain cash strapped. Part of this bill should be directed at job creation to maintain or enhance governmental services.
Community Service Component: Non-profits, community-based, and local service organizations such as food banks have been hard hit and stretched to the limit. There should be a major appropriation in the bill to support jobs in this sector.
Small Business Entrepreneurial Component: Millions of small businesses will go out of business because of the pandemic. This bill should provide funds for those who have lost jobs or their businesses so they can develop and implement business plans to replace small businesses that have closed due to the pandemic or to launch new innovative ventures.
This bill should also be used to provide support for the numerous recommendations that are job creating in the Inspired to Serve report from the National Commission on Military, National, and Public Service. Many of those jobs would be appropriate not only for those returning to work, but also for those entering the workforce upon graduation from high school or college in 2020 and the years going forward in this decade.
The jobs bill should be thought of as an employment benefits bill and an alternative to unemployment benefits. Unemployment benefits are definitely necessary as transitional tools.
They are not job creators, however, and do not restore the dignity that only a job can provide. Employment benefits do that by promoting a sense of independence and self-sufficiency.
In 1932, after he was elected President, Franklin Delano Roosevelt created a "New Deal" to confront and combat the Great Depression. That deal was centered on the 3 R's.
Those R's were not reading, writing and arithmetic. They were Relief, Recovery and Reform.
Although the country today is re-opening it is still very much in the relief phase. A robust jobs bill will help move it into the recovery phase. And from there, we can move on to the Reform Phase and development of an American Renewal Plan to reverse the forces of repression and regression that are hamstringing our democracy today.
Near the end of his tenure as President, Barack Obama said:
Yes, we've still got more work to do. More work to do for every American still in need of a good job or a raise, paid leave or a decent retirement; for every child who needs a sturdier ladder out of poverty or a world-class education; for everyone who has not yet felt the progress of these past seven and a half years.
That was true then. It is even more true today.
It is time for the President and Congress to get to work and do job one, which is to put a plan in place to create jobs for the American workers. They will do the work from there.