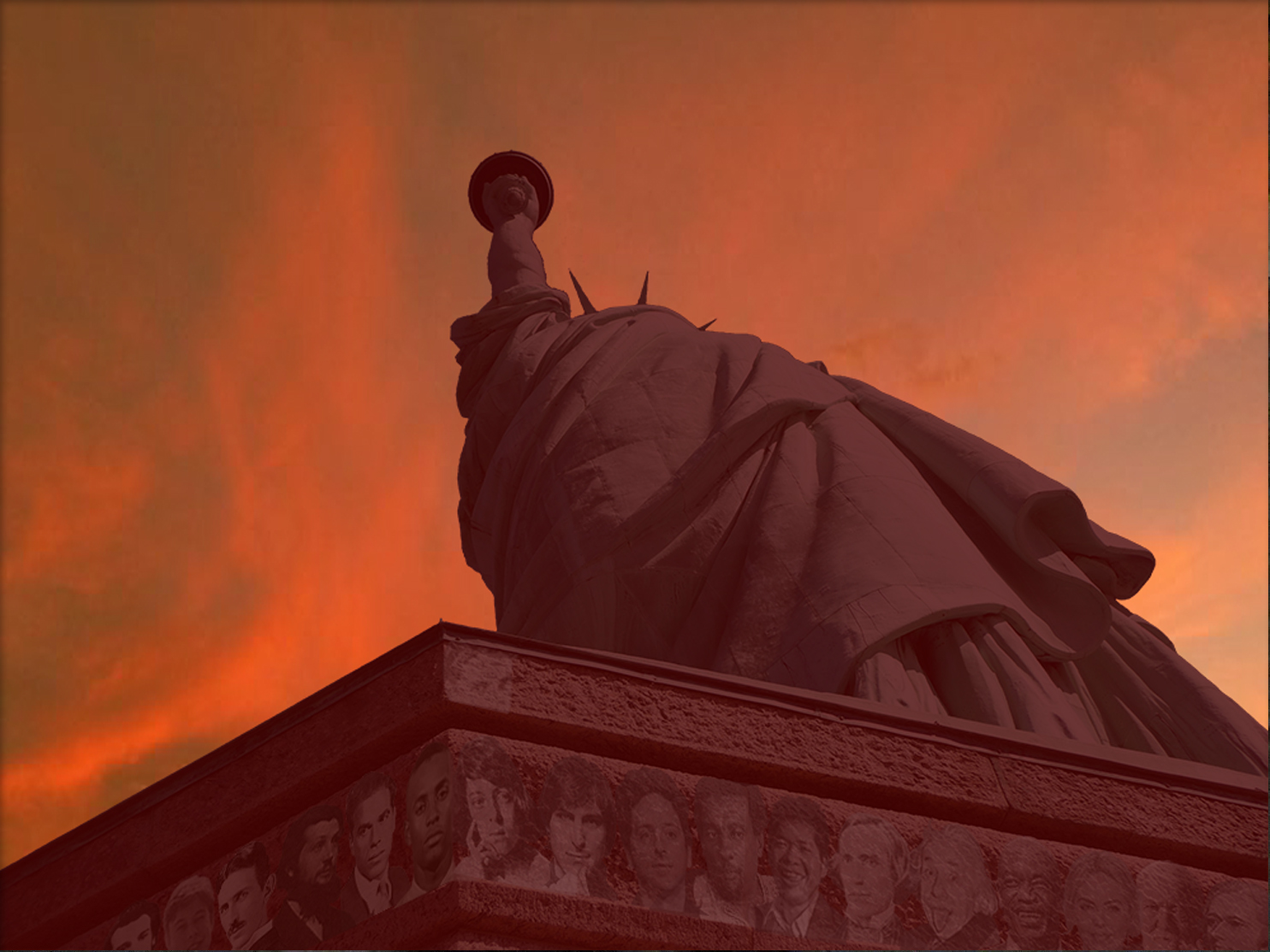 The Immigrants

Happy Interdependence Day (July 5th)!  In recognition of its fruits, we're starting a database in honor of the citizens who, by definition, started their American journey from zero–the immigrants, who have contributed so much to our country and inspired us with their stories of how far they've come.   

We know there are many more world-beaters worthy of inclusion, and hope you'll help us build out this 'honor roll' with thoughts and suggestions in the virtual suggestion box below.  We're particularly interested in adding immigrants who became US citizens, who did at least some of the major work they're known for here, and whose work itself has had a significant impact on our country, plus any first generation contributors from countries subject to the Muslim ban.  We'll be adding names as well–and photos, too!

Daniel Aaron—Germany

Madeleine Albright—Hungary

Ernst Alexanderson—Sweden

Isabel Allende—Chile

Christiane Amanpour—England, Iran

Micky Arison—Israel

John James Audubon—Haiti

Ralph Baer—Germany

Alexander Graham Bell—Scotland

Irving Berlin—Russia

Hans Bethe—Germany

Elizabeth Blackburn—Australia

Len Blavatnik—Ukraine

Ettore Boiardi—Italy

Carl de Boor—East Germany

Amar Bose—India

Nadia Boulanger—France

Sergey Brin—Russia

Yul Brynner—Russia

Adolphus Busch—Germany

Albert Butz—Switzerland

Frances Xavier Cabrini—Italy

Frank Capra—Italy

Stokely Carmichael—Trinidad

Andrew Carnegie—Scotland

Jim Carrey—Canada

John Catsimatidis—Greece

Subrahmanyan Chandrasekhar—India

Charlie Chaplin—England

Steve Chen—Taiwan

Andrew & Peggy Cherng—Myanmar, China

Louis-Joseph Chevrolet—Switzerland, France

Liz Claiborne—Belgium

Albert Claude—Belgium

Roberto Clemente—Puerto Rico (territory)

William Colgate—England

Gerty Cori—Czech Republic

Alfonso Cuaron—Mexico  

Nathan Cummings—Canada, Lithuania

Theodore and Milton Deutschmann—England

Carl Djerassi—Bulgaria

Emmanuel Dongala—Congo

Francisco D'Souza—India

Albert Einstein—Germany

Gloria Estefan—Cuba

Charles Feltman—Germany

Enrico Fermi—Italy

Reginald Fessenden—Canada

Marc Forster—Germany

Michael J Fox—Canada

Felix Frankfurter—Austria

Carl Joachim Friedrich—Germany

James Gamble—Ireland

Marcus Goldman—Germany

Cary Grant—England

Andy Grove—Hungary

Victor Gruen—Austria

Alexander Hamilton—Nevis

George Hatsopoulos—Greece

Salma Hayek—Mexico

Henry John Heinz—Germany (1st generation, shortly after parents' arrival)

Alfred Hitchcock—England

James Hoban—Ireland

David Ho—Taiwan

Bob Hope—England

Arianna Huffington—Greece

Ben Huh—South Korea

Alejandro Gonzalez Inarritu—Mexico

Frank Islam—India

Steve Jobs—Syria (1st generation, pre-Muslim ban)

Jawed Karim—East Germany

Shahid Khan—Pakistan

Vinod Khosla—India

Maxwell Kohl—Poland

Willem de Kooning—Netherlands

Jan Koum—Ukraine

James Kraft—Canada

Mila Kunis—Ukraine

Jhumpa Lahiri—India

Fritz Lang—Germany

Louis Lassen—Denmark

Ang Lee—China

Rita Levi-Montalcini—Italy

Max Levchin—Ukraine

Adolph Levitt—Russia

Phil Libin—Russia

Ernst Lubitsch—Germany

Andrew Ly—Vietnam

Yo-Yo Ma—France, China

Adrian Malone—England

Thomas Mellon—Northern Ireland
Charles & Alexander Meston—England
Joni Mitchell—Canada
Mario Molina—Mexico
Rita Moreno—Puerto Rico (territory)
Nigel Morris—England
John Muir—Scotland
Rupert Murdoch—Australia
Elon Musk—South Africa
Dikembe Mutumbo—Congo
Vladimir Nabokov—Russia
Sayta Nadella—India
James Naismith—Canada
John von Neumann—Hungary
Indra Nooyi—India
John Nordstrom—Sweden
Luke Nosek—Poland
Hakeem Olajuwon—Nigeria
Ann-Marget Olsson—Sweden
Ilhan Omar—Somalia
Pierre Omidyar—France, Iran
Gholam Peyman—Iran
I.M. Pei—China
Alberto Perez—Columbia
Thomas Peterffy—Hungary
Charles Pfizer—Germany
Sundar Pichai—India
E.I. du Pont—France
Natalie Portman—Israel
Otto Preminger—Austria-Hungary
William Procter—England
Joseph Pulitzer—Hungary
Ayn Rand—Russia
Oscar de la Renta—Dominican Republic
John Augustus Roebling—Germany
Mark Rothko—Latvia
Helena Rubinstein—Poland
Edward Said—Israel/Palestine
Carlos Santana—Mexico
Arnold Schwarzenegger—Austria
Sol Shenk—Russia
Arnold Schoenberg—Austria
Isaac Schoenberg—Romania
M. Night Shyamalan—India
Luther George Simjian—Armenia
Gene Simmons—Israel
Charles Simonyi—Hungary
Jeffrey Skoll—Canada
Patrick Soon-Shiong—South Africa, China
George Soros—Hungary
Art Spiegelman—Sweden
Elizabeth Stern—Canada
Levi Strauss—Germany
David Sun—Taiwan
Leo Szilard—Hungary
Jack Szostak—Canada, England, Poland
Edward Teller—Hungary
Nicola Tesla—Croatia
Charlize Theron—South Africa
Peter Thiel—Germany
Elihu Thompson—England
Alex Trebek—Canada
John Tu—Taiwan
Steven Udvar-Hazy—Hungary
Hamdi Ulukaya—Turkey
Eddie Van Halen—Netherlands
Roger Wang—China
Billy Wilder—Austria-Hungary
Chien-Shiung Wu—China
William Wyler—Germany
Jerry Yang—Taiwan
Fareed Zakaria—India
Fred Zinneman—Poland
Who are we missing? We welcome your suggestions here, and thank you in advance for your thoughts!