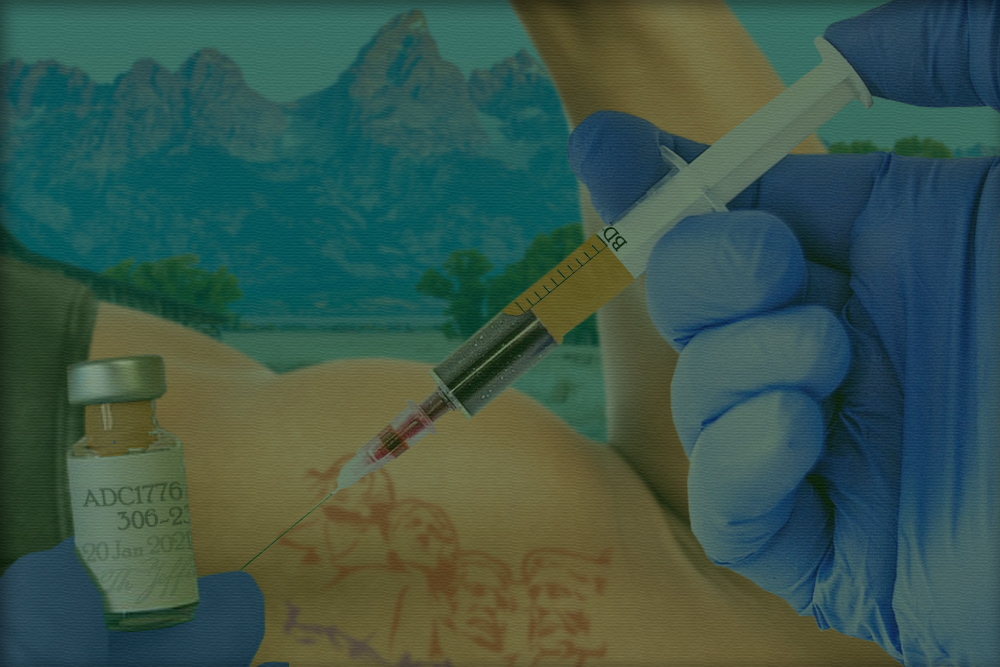 Word of the Year: Vaccine

  By Frank F Islam & Ed Crego, December 1, 2020 (Image Credit: Tom de Boor, Adobe, et al)
Vaccine. That is our word of the year for 2020.
Our choice for 2019 was trust — not for its presence but for its absence in that year. In 2018, we chose three words: toxic justice, trumper-tantrum and shutdown.
Our 2018 Word Of The Year blog began as follows, "2018 is past. May it rest in peace. It deserves a gentle farewell because there was little that was relieving or relaxing in this most tumultuous year."
Little did we suspect that 2018 and 2019 were dry runs for 2020. In this year, the lack of trust intensified, as did toxic justice, trumper-tantrums, and shutdowns.
2020 was neither the best of times nor the worst of times. It was timeless and endless. Because of the tortuous conditions experienced by so many across this country, days ran into days, weeks became months, and months seemed like years.
There were four major crises in 2020: COVID-19; an economic collapse; the racial injustice explosion; and the challenges to American democracy.
America needs a societal vaccine to address each of these crises. This is why we selected vaccine as our word of the year for 2020.
The CDC provides the following definition for a medical vaccine: "a product that stimulate a person's immune system to produce immunity to a specific disease, protecting the person from that disease." Our definition for a societal vaccine is: a systemic intervention that empowers citizens to unite for the common good to produce immunity against infections that promote inequality, injustice, and divisiveness.
Our thoughts on the need for and nature of each of these societal vaccines follow.
COVID-19 Societal Vaccine
The search for a vaccine to combat and inoculate America's citizens against COVID-19 started almost immediately after the coronavirus was discovered in the U.S. That search was labeled Operation Warp Speed. With the Pfizer, Moderna, and AstraZeneca announcements of the success of their vaccines, it is apparent that the search for a vaccine has indeed progressed at warp speed.
What has not progressed at warp speed, unfortunately, is the implementation and enforcement of the guidelines for protecting citizens from COVID-19 and retarding its expansion.
Everybody knows the guidelines. They are: wear a mask, maintain a social distance of at least 6 feet, and wash your hands regularly. Nonetheless, a sizeable segment of the American population does not accept or abide by them.
These guidelines could be labeled the societal vaccine. The failure to develop a national plan and to administer this vaccine uniformly in states, counties, and cities across this nation has cost tens of thousands of lives, and resulted in millions of cases that could have been prevented.
To defeat the COVID-19 disease, we need both medical and societal vaccines. We also need a robust approach to testing and contact tracing, and a process to ensure the rapid manufacturing and distribution of the COVID-19 vaccines after they become available.
The COVID-19 advisory board established by president-elect Biden is charged with putting science and medical expertise at the forefront of addressing this pandemic. This should enable the Biden administration to implement a comprehensive program that will yield excellent results nationally on both the medical and societal vaccine fronts.
Bringing the pandemic under control will assist America's economic recovery in the long run. But achieving that control will take some time and it will not provide any bounce back in the short term.
Economic Recovery Societal Vaccine
As we have noted, the collapse of the economy with the shutdowns in the early days of the pandemic hurt almost every American. The hardest hit included women, minorities, and those in the arts and entertainment and service industries. The other group that took it on the chin early on were smaller small businesses — especially micro-businesses and self-employed individuals.
The economy has recovered somewhat but the "new normal" looks nothing like the old normal. Many American workers and businesses are still hurting. Those most impacted remain the groups most disadvantaged at the beginning of the economic retrenchment. In addition, job losses in state and local governments have escalated.
One estimate is that as many as 40 million people have lost their jobs permanently due to the pandemic. A new study shows that 12 million people will lose their unemployment benefits at the end of this year.
There has been and will be a need for a new stimulus package or packages going forward. Congress is to be commended for working together collaboratively to implement the CARES Act stimulus packages at the outset of the economic crisis precipitated by the COVID-19 pandemic. It must be criticized, however, for not passing new stimulus funding as the need remains substantial and ongoing.
Jamie Dimon, JPMorgan Chase CEO, did exactly that. In a November 17 interview on CNBC with Andrew Sorkin, he called out Democrats and Republicans alike for not being able to come together to put a new COVID-19 relief plan in place. Dimon stated, "I mean just split the baby in half and move on. This is childish behavior on the part of our politicians."
It may not be "childish" but it is definitely partisan and polarized. The stimulus packages that Congress passed rapidly were societal vaccines that kept the economy and the American people afloat after this pandemic initially hit. There is an urgent need for a new stimulus package or packages going forward over the winter months and well into 2021.
The good news is that on November 17, the same day that Jamie Dimon levied his criticism, Joe Biden called for Congress to pass a large economic stimulus package to help workers, businesses, and state and local governments. Time will tell whether there will be a package before Biden takes office.
Maybe there will be one as a result of a compromise reached between the House and the Senate before Donald Trump leaves office, with the need for another after to fill in the blanks after Biden is President. Regardless of how this plays out, it must play out to benefit the American people who overwhelmingly agree — regardless of party affiliation — something must be done. They see it that way. So should our elected representatives in Washington, D.C.
Racial Injustice Societal Vaccine
While there has been some action and a societal vaccine injected to deal partially with America's economic problem, there has been little to no productive or encompassing response to the racial injustice explosion. This explosion started with the killing of George Floyd in Minneapolis by a police officer on May 25.
That killing, followed by subsequent incidents, precipitated peaceful protests across the country by a racially and generationally diverse group of concerned citizens, and the mobilization of the Black Lives Matter movement. Some of those protests were converted into riots by a few individuals and agitators who employed them for looting and property destruction.
President Donald Trump used these events, and the Black Lives Matter call to defund the police, as a rallying cry directed at voters to elect him to ensure "law and order" and to stop violence in the streets. There is no definitive study yet on the extent to which this message was determinative in whom citizens voted for on November 3. There were indications before the election that it was resonating in smaller cities and rural areas that were predominantly white, but not as well in the more racially integrated cities and their surrounding suburbs.
If Trump had won, there would be no hope for development of a societal vaccine to deal with racial injustice and problematic policing. He did not. So, there is hope for a societal vaccine of some type.
Whether that vaccine will be sufficient to address the "systemic racism" extant in today's America is another question. As we noted in an earlier blog, a systemic response is necessary to respond to that racism. We identify a number of resources that can be drawn upon to develop that response in that blog
President-elect Joe Biden has called for major policing and criminal justice reform. Chelsey Sanchez points out in her analysis for Harpers Bazaar that "his platform is reform oriented, with a focus on community crime prevention and expanding accountability of officer misconduct."
Much good thinking has been done in this area. There are plans and proposals in abundance but they have been moving forward at warped speed rather than at warp speed.
It is time to stop the thinking and start the doing. What needs to be done is to create the societal vaccine for racial injustice and to distribute it across the country as rapidly as possible.
American Democracy Societal Vaccine
Confronting the current challenges to the American democracy will be as important as dealing with racial injustice. The good news is that, with Joe Biden's election, the imminent demise of the American democracy was avoided. Numerous commentators had predicted that if Trump won four more years in the White House it would be fatal for our democratic republic.
It must be stressed that Trump was not the architect of the fall of democracy in these United States; it had been in decline for most of this 21st century and possibly even before. Trump channeled and exploited the divisions across America, magnified and amplified them and pushed our democracy to the breaking point.
The extent of the divisions was highlighted by the results of this year's presidential election: They include divisions between the red states and the blue states; between the rural and urban areas within states; between the right wing conservatives and the left wing progressives; between white and black; between those who favor an autonomous presidency and those who prefer three equal branches of government; between those who are satisfied with the status quo and those who desire change; and between emphasizing individual rights versus demonstrating concerns for the common good.
There is a huge and multifaceted divide. It is not a divide, however, that will be impossible to cross. But doing so will require strong leadership and a comprehensive plan in order to renew America.
That renewal will require both rediscovery and reinvention. President-elect Joe Biden addressed both requirements in his dual campaign themes and agenda to restore the soul of America and to build back better.
We set out a detailed approach for preserving our American in a May 15 blog. Central to this approach was the recommendation to establish an American Renewal Commission (ARC).
The ARC should be nonpartisan rather than bipartisan. Its members should be drawn from national leaders with expertise and experience in politics, government, civic community, and academia.
The charge to the ARC should be: To provide the strategic and proactive framework for creating a more inclusive and equitable American democracy.
The ARC should develop plans to accomplish this vision. The capstone plan should be the Democracy Renewal Plan.
The ARC should determine the components of the Renewal Plan. At a minimum, though, given the current state of the democracy, it should include renewal in the following areas:
Faith in the American dream, which has diminished
The federal government, which has been decimated by the Trump administration
Civic education, which has decreased as STEM has supplanted it in schools
Enhancing the national public health system
The democracy renewal plan would be a societal vaccine focused on uniting the divided states of America and narrowing the divisions that have grown so dramatically over the past four years.
Societal Vaccines and the American Experiment
COVID-19 and the other major crises of 2020 pushed the United States of America toward the precipice. The American Republic and its government — which President George Washington, in a letter written in 1790, referred to as "the last great experiment for promoting human happiness, by reasonable compact, in a civil society" — was threatened.
Then in November, Pfizer, Moderna, and AstraZeneca announced their medical vaccines, and the people elected Joe Biden to be the agent for their societal vaccine. At a press briefing on November 19, Dr. Anthony Fauci, head of the National Institute of Health, declared "Help is on the way."
He was talking about the coronavirus vaccines and help on the medical front. But what Dr. Fauci said applies to the societal front as well.
Indeed, the medical vaccine itself could have a very beneficial effect societally. Susan Tompor of the Detroit Free Press reports that a team of University of Michigan economists project that if the vaccine is broadly available in 2021, the economy will turn around from a real GDP decline of 3.6% year-over-year to forecasted growth of 4.2% in 2021.
The Michigan team expects the economic recovery to come quickly and relatively early in 2021 for those highest income consumers who were not hurt very much, if at all, in 2020. It will take much longer for lower wage workers in the service sectors "who bore the brunt of the early jobless hit."
This projection regarding the economic recovery illustrates why the societal vaccines discussed herein are as important and essential for America writ large as the medical vaccines. They are needed to ensure that the "great American experiment", which has continued for more than 230 years since President Washington wrote his letter describing this nation in that way, continues.
Experiments are conducted to test hypotheses. They can be revised and refined based upon what is learned in order to achieve better or desired outcomes or results.
Societal vaccines move us closer and closer to the concept of "a more perfect union" envisioned in the preamble to the U.S. Constitution. They help to build social capital and civic capital, which are the glue that hold the American democracy together and strengthen it over time.
Because of this, vaccine is not only our word of the year for 2020. It is also our word for the future to ensure that this "great American experiment" in pursuit of a "more perfect union" continues and continues and continues.