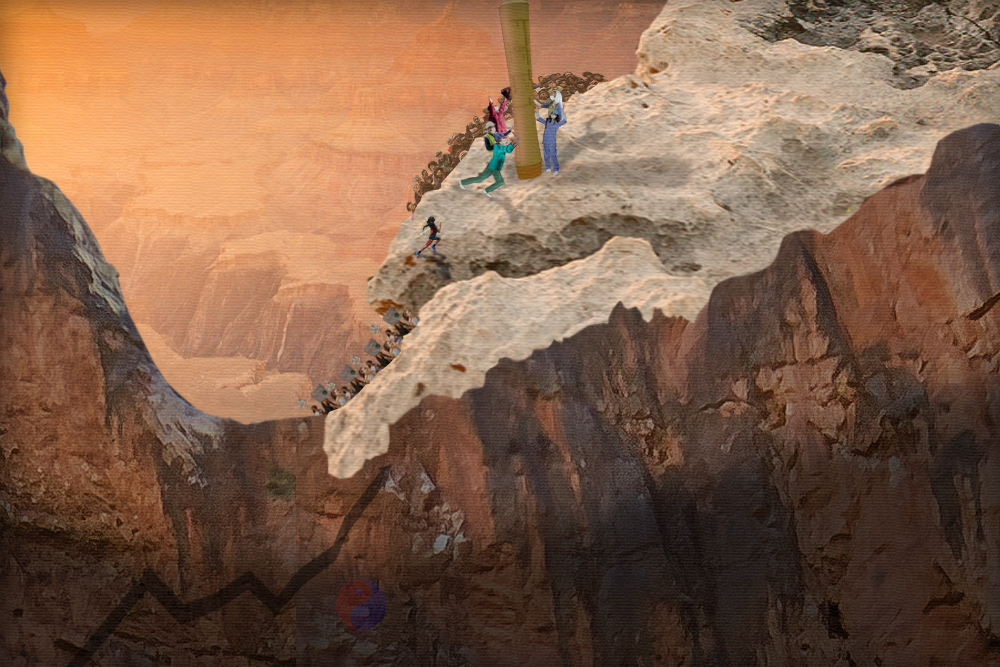 The Way Back

[This is the third and final blog of a three-part series focused on what is happening in our democratic republic in terms of repression and regression and what should be done in response to these conditions. In the first blog, we examined the areas of repression. In the second, we examined the areas of regression. In this blog, we present and discuss plans for protecting and preserving our democracy.]

  By Frank F Islam & Ed Crego, May 15, 2020
Make no little plans, they have no magic to stir men's blood and probably themselves will not be realized. Make big plans; aim high in hope and work, remembering that a noble, logical diagram once recorded will never die, but long after we are gone be a living thing, asserting itself with insistency.
– Daniel Burnham, American architect and urban planner
In an April 10 White House coronavirus briefing, President Trump was asked by a reporter what metrics he would use to determine when to reopen the country. Trump pointed to his head and replied, "The metrics right here. That's my metrics. That's all I can do."
That gesture and those words confirmed that the United States was in terrible trouble with this planning-averse President who lives inside his own head in charge during this time of crisis. This is the case because inside that head there is little-to-no room for data, evidence, expert knowledge, intelligence, or analytical reasoning.
As a business person, President Trump demonstrated his lack of planning and management skills by bankrupting six hotels and casinos, which caused thousands of lost jobs and getting involved in more than four thousand lawsuits. As our President, Trump's failure to put a timely and thorough health care plan in place to combat the coronavirus has already resulted in more than 1.4 million cases and nearly 86,000 deaths in the U.S. and traumatized the American economy.
There is no vacuum at the top. But it would be nice to have a vacuum cleaner that could be used to get rid of the flotsam and jetsam floating around in the mind of our feckless leader. Or perhaps all we need is the sun or a little bit of bleach for the President to ingest.
A mind is a terrible thing to waste. But you have to have one to waste one.
Seriously, because of who he was and is, this is the best that can be expected of Trump — our commander-in-chief. He may be our "war-time" President. The war he continues to wage, unfortunately, is not on the coronavirus pandemic, but a divisive re-election and cultural war focused on mobilizing his base to go into combat on his behalf.
This is a tragic for the United States and destructive of our American democracy. Fortunately, while the coronavirus has shown us the worst of Donald Trump, it has brought out the best in many citizens who have leapt into the breach to fight for the common good and to breathe life back into the American idea.
Our democracy is not on life support and ventilators like those citizens with Covid-19 in hospitals across the nation, but it is definitely at risk. As we said in our two earlier blogs in this series, we are living in an era of repression and regression.
The repression has been going on for some time, but intensified with the presidential political campaign of 2016 and has intensified even more-so under the Trump administration. The scope of the regression is broad and encompassing and has been affecting many areas for decades before the pandemic.
The coronavirus pandemic has multiplied the impact of these repressive and regressive forces. As a result, it will be totally insufficient to only address the near-term health and economic consequences of the pandemic.
What will be required to win this war completely on behalf of the American citizens and to preserve our democracy is an integrated set of four plans. They are:
Health Care Stabilization Plan
Country Reopening Plan
Economic Recovery Plan (Short Term)
Democracy Renewal Plan (Long Term)
In earlier times, the federal government would have taken the lead in helping to develop and ensure those plans were put into place and implemented effectively. In these times, for the time being, the federal government is providing "guidance" and leaving it up to states and cities to chart their own course on the first two plans.
While the federal government (with a few notable exceptions such as FEMA, the CDC and the National Guard) has been more hands-off, citizens and organizations have heard the call to arms and been hands-on, providing input and ideas that can be used to develop all four of those plans. They have done so with classic American industriousness, ingenuity, and inventiveness.
We will identify some of that creative input and ideas in our discussion of the plans that follow. Let us begin, however, with an overriding recommendation, which is to establish an American Renewal Commission as the group to lead the development of these plans.