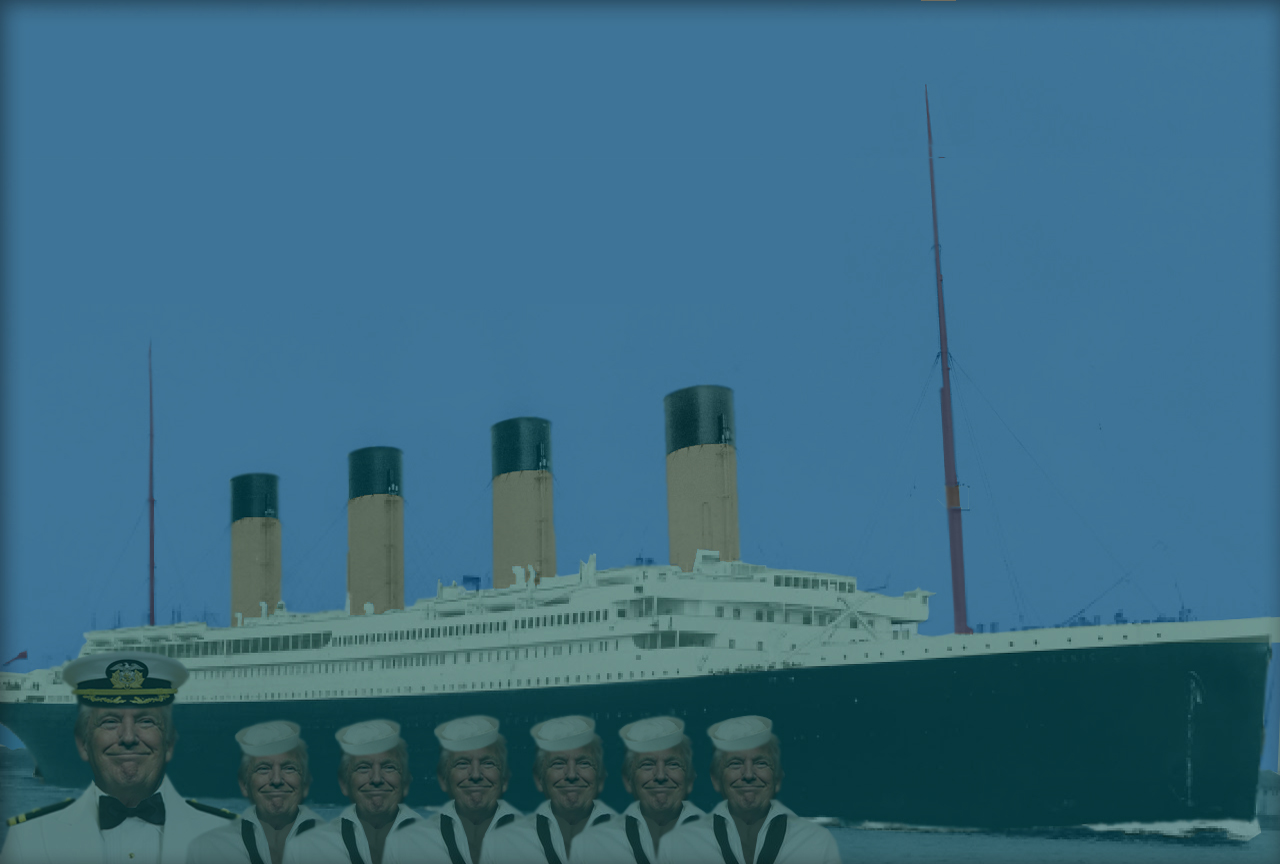 The Plot Sickens

  By Frank F Islam & Ed Crego, February 18, 2020
This past decade was a one of loss for the United States. We've hoped that this decade would be one of recovery.
As we noted in our last blog, however, we are not off to a good start in this regard. There were five disquieting events in the first week of February indicating that the loss in the 2010s might continue and even accelerate in 2020s. They were:
President Trump's State of the Union address
The Senate's acquittal of Donald Trump on the impeachment charges
President Trump's National Prayer Breakfast performance
President Trump's White House event after his acquittal
The Iowa Democratic caucus catastrophe
In the second week of February, things went from bad to far worse. Because of the abhorrent and aberrant behavior of President Trump and his aiding and abetting administration, the plot sickens for our democracy.
Our democracy is in a cancerous state. It is not in a terminal illness stage yet, but its condition is far graver than when Donald J. Trump took office a little more than three years ago.
Trump started spreading the seeds and polyps for cancer in our democracy in his campaign to gain the presidency. He did this by channeling the anger, hostility and alienation of segments of the citizenry. He amplified and transmitted those sentiments through his own infectious and malignant personality to cause it to metastasize across the country.
As President, he has continued to do this through a variety of means, including his rapidly multiplying lies, tweets, campaign rallies, and unpresidential behavior, and the cancer progressed to a stage 1. After his impeachment acquittal, and with the support of his enablers in the first five weeks of 2020, the cancer progressed to stage 2.
With numerous actions of the past week, Trump and his enablers are establishing the conditions for the cancer to advance to stage 3 and to become terminal if not treated effectively. The most serious included:
Trump's tweets related to the Roger Stone case. The Department of Justice's decision to lower its recommended sentence for Stone. And Attorney General William Barr's comments on all of this.
Trump's removal of Lt. Col Alexander Vindman and his twin brother Lt. Col. Yevgeny Vindman from the White House staff.
Trump's merciless and meritless budget proposal, which would harm Americans and America if it were passed as proposed.
The reduction in Roger Stone's proposed sentence, for the seven felonies on which he was convicted, came from Timothy Shea, a confidante, advisor and hand-picked temporary successor of William Barr to replace Jesse Liu as head of the Washington, D.C U.S. Attorney's office, and led the four federal prosecutors who had recommended the original sentence to resign. It also became a national brouhaha, and source of considerable concern for many experts, because the reversal appeared to be politically rather than legally motivated.
The political motivation came from none other than Donald Trump. His tweet-prints were all over it.
It began with a tweet on the sentencing of his friend and close confidante Stone in which Trump stated, "This is a horrible and very unfair situation…Cannot allow this miscarriage of justice." Later, after Barr's team had reduced the sentence, he tweeted, "Congratulations to Attorney General Bill Barr for taking charge of a case that was totally out of control…" Finally, the tweeter-in-charge went after Justice Amy Berman Jackson, who would be sentencing Stone, in a tweet in which he falsely asked "Is this the Judge that put Paul Manafort in SOLITARY CONFINEMENT, something that not even mobster Al Capone had to endure?"
All of this, along with significant pushback from the media and the legal profession, was too much for Trump's made-man A-G William Barr. He went on ABC News and suggested that Trump should stop tweeting about Department of Justice cases because they "make it impossible for me to do my job."
In his interview, Barr defined his job as doing what he thinks is "the right thing." In this instance, and with his leadership in the cover-up and misrepresentation of the Mueller Report, the question becomes: is the job and doing the right thing managing the department and its legal proceedings fairly and impartially, or serving as a toady for the President?
A New York Times article on his intervention in Michael Flynn's sentencing supports the latter perspective. So, too does the fact that more than 2,000 alumni of the Department of Justice who served in Republican and Democratic administrations have signed a letter calling for Barr to resign because of his interference in the Roger Stone case and its "grave threat to the fair administration of justice."
This evidence makes it "impossible" to conclude anything but that AG Barr is a "fixer" for the President. No matter whether this approach is driven by Barr's personal commitment to a monarchial presidency or a monarchial individual, the potentially fatal consequences for the rule of law would be the same.
While the Stone imbroglio captured the majority of the media coverage, the Vindman incident ran down a parallel path with Trump trying to influence the administration of justice there as well. Talking to reporters in the Oval Office after Vindman was removed from the White House and returned to the army, Trump said "I would imagine that the military would take a look at" whether Vindman should face disciplinary action for the "horrible things" he said during his House testimony regarding the President's "perfect" phone call with Ukrainian President Volodymyr Zelensky.
Unlike the Department of Justice, the Army adhered to its Code of Military Justice and was not obsequious in response to the suggestions from the Commander in Chief. On Friday, February 14, three days after Trump provided his opinion, Secretary of the Army Ryan McCarthy announced that they would not investigate Vindman.
Finally there is Trump's proposed budget for the 2021 fiscal year, which reflects his disregard and dismissiveness for a large segment of the American people and the part of the planet our country occupies. As reported in the New York Times,
The president's plan includes about $2 trillion in cuts to safety net programs and student loan initiatives. These reductions include new work requirements for Medicaid, federal housing assistance and food stamp recipients which are estimated to cut $300 billion in spending from the programs. The budget would also cut spending on federal disability insurance benefits by $70 billion and on student loan programs by $170 billion.
In addition, the proposal cuts the Environmental Protection agency's budget by 26 percent, eliminating 50 of its programs, and reduces the Center for Disease Control's budget by 9 percent.
Each and all of these cuts would affect the nation's health, and would increase the societal cancer engulfing our democracy. Use of the term cancer, and the potential for its fatality, might seem to be inappropriate or an overstatement for what is happening to and within the United States and its body politic.
We believe not. Let us explain why.
Since the "breaking news" surrounding Trump's manipulation of the Department of Justice, the media has continued to refer to the fact that it breaks or violates "norms". To the casual observer that might not appear to be a big deal.
It is a very big deal though, because Donald Trump, in the way he comports himself and the actions he has taken, has consistently broken norms on matters large and small in the United States and around the world. That's a very big deal because of the central importance of norms to the organization and maintenance of a civil society and a functioning democracy.
The first two definitions of norm in the Merriam-Webster dictionary are:
1. An authoritative standard
2. A principle of right action binding upon the members of a group and serving to guide, control, or regulate proper and acceptable behavior.
Under the Trump regime, the new norm has become "an authoritarian standard" and "a principle of wrong action binding upon the members of a group to engage in and to legitimate improper and unacceptable behavior." If this "alternative" form of norm is allowed to pervade and persist, it will eventually kill our American democracy.
Harvard University government professors, Steven Levitsky and Daniel Ziblatt, warned of this in their book, How Democracies Die, published in January 2018. In an article in The Guardian extracted from their book at that time, Levitsky and Daniel Ziblatt make the following points:
An essential test for democracies is not whether such figures (demagogues) emerge but whether political leaders, and especially political parties, work to prevent them from gaining power in the first place…
Once a would be authoritarian makes it to power, democracies face a second critical test: will the autocratic leader subvert democratic institutions or be constrained by them?
America failed the first test in November 2016, when we elected a president with a dubious allegiance to democratic norms.
Two basic norms have preserved America's checks and balance in ways we have come to take for granted: mutual toleration, or the understanding that competing parties accept one another as legitimate rivals, and forbearance or the idea that politicians should exercise restraint in deploying their institutional prerogatives.
Two years ago, Levitsky and Ziblatt proceeded to comment that because of the conditions at that time "… the guardrails of American democracy are weakening." Today, in 2020, Trump and his entourage have taken America's democracy and run its "freedom train" almost completely off the rails.
Given this, who is responsible for treating and what can be done to cure the cancer that derailment has caused? In our blog preceding this one, we emphasized the need for us, as individuals, to be 21st century citizens who are interested, issues-oriented, informed, independent, and involved in order to confront this condition and to revive and renew the American dream.
In this blog, let us add to that call to action, thoughts to address and eliminate this cancer from Marie Yovanovitch — civic commitment; Rebecca Winthrop and Meg Heubeck — civic injections; E. J. Dionne, Jr. — radical civic surgery; and the National Council for Social Studies (NCSS) — civic immunotherapy.
On February 13, Yovanovitch, the former ambassador to the Ukraine who testified against Donald Trump in the impeachment proceedings, was given the Trainor Award for "distinction in the conduct of diplomacy" at Georgetown University. In her acceptance speech, the ambassador commented on the current "troubled" and "amoral" condition of the State Department where "the truth is being hollowed out."
In spite of all of this, Yovanovitch declared near the end of her speech that she was optimistic, because of the interest she has seen from so many who still want to go into the foreign service and to be "…the man and the woman in the arena. They are not giving up. They are committed to make this nation and the world a more democratic, more prosperous, and more secure place…"
After that observation, Yovanovitch concluded by stating:
I believe that this is a time for each one of us to pick our passion, whether it is in diplomacy or a different area. We all need to be contributing to making our community, our country, our world, the kind of place we want it to be. No one else will do it for us.
In November of 2019, Winthrop and Heubeck of the Brookings Institution presented a "bucket list" of 76 things involved citizens can do to boost civic engagement. As they note, "Civic engagement is the glue that holds self-government together," but that engagement has "been on the "decline for decades."
Their list contains recommendations in the following categories: Stay Informed — e.g., Read and subscribe to daily, local, regional or national newspapers. Vote: — e.g., volunteer to work at a polling place. Participate — e.g., communicate with your local elected officials; Build Community — e.g., identify a problem in your community and work with your neighbors to improve it; and Get Social — e.g., use your social media accounts to post uplifting information relevant to making our society more civil.
The bucket list is solid, but given the seriousness of this cancer, radical surgery will be necessary to excise it. E.J. Dionne, Jr., explains why that approach will be required in his new book, Code Red: How Progressives and Moderates Can Unite to Save Our Country.
In a past work, and one of our all-time favorites, Our Divided Political Heart: The Battle for the American Idea in an Age of Discontent, published in 2012, Dionne provided an in-depth and historical examination of the state of our political condition at that time and how we got there. In the final chapter, he advised a more "consensual balance" from both parties — especially from the Republican Party, which he argues had lost its commitment to classic conservatism and communal values due to the stranglehold of the Tea Party.
Fast forward eight years, and in Code Red the call for a consensual balance has disappeared. That's the case because Donald Trump has subsumed and replaced the Tea Party and strangled the Republican Party. As a result, Dionne now argues — and we agree with his argument — that it is up to moderates and progressives to overcome their differences and come together, maintain the unity they showed in the 2018 mid-term elections, and use it to vote Trump out of office.
That action alone will not cure the cancer on our democracy, but it would arrest its development. It would establish the basis for creating some form of "consensual balance" and collaborative problem-solving in the political arena again. There would be breathing space to begin a renewal and revival of our democracy, created by people and politicians of good will finding common ground and the capacity to work together once again.
With that going on, the last phase of this recovery from cancer must be a nation-wide recommitment to civic education for our future citizens. In March of 2019, the National Council for the Social Studies (NCSS) issued a position statement, which began,
At its core, civic education should provide students with the ability to take informed action to address problems relevant to life in a democratic republic. It should target the knowledge, skills and dispositions necessary to ensure that young people are truly capable of becoming active and engaged participants in civic life.
Since the beginning of this 21st century, due to the nearly singular emphasis on science, technology, education, and math (STEM), and the associated testing, there has been precious little civics in elementary and middle school. And what passes for civics in the majority of our high schools across the country is a history course and some type of citizenship test focused on knowledge of the Constitution and U.S. government.
This is grossly insufficient and must be corrected to ensure the next generation of citizens that will be essential to maintaining a vital and vibrant democracy. Those citizens need to be educated citizens to ensure that the past two decades will not be prologue and to help repair the damage created during this generation. (See our blog on civic education and democracy for more in-depth and detailed thoughts on what would constitute a high quality and effective civic education.)
In conclusion, in spite of the current chaos being generated by the Trump administration, and the cancer it has spread across this great nation over the past three years, we remain optimistic. This is just another pivot point for this nation struggling along the way to becoming "a more perfect union." Consider the Constitutional Convention, the civil war, social security, the G.I. Bill, the Civil Rights Act, and think about alternative scenarios and what they might have meant in terms of the evolution of this great nation and our American democracy. (See our book Working the Pivot Points: To Make America Work Again for additional insights and information on pivot points.)
Our democracy was also threatened during the Great Depression in the 1930's, and citizens of all stripes stepped forward to keep it alive. (Read Jill LePore's masterful New Yorker article on this, in the online version titled, "The Last Time Democracy Almost Died") Our American history and memory of our American foremothers and forefathers gives us hope and faith in the collective strength and resilience of the American people. It makes us confident that we will find the resolve to heal this nation and democracy and put it on the road to recovery from this cancer.
It will take a while to get there. The journey will be a long and difficult one. In spite of that. we believe firmly that "we shall overcome" and the American democracy will be restored to health once again.