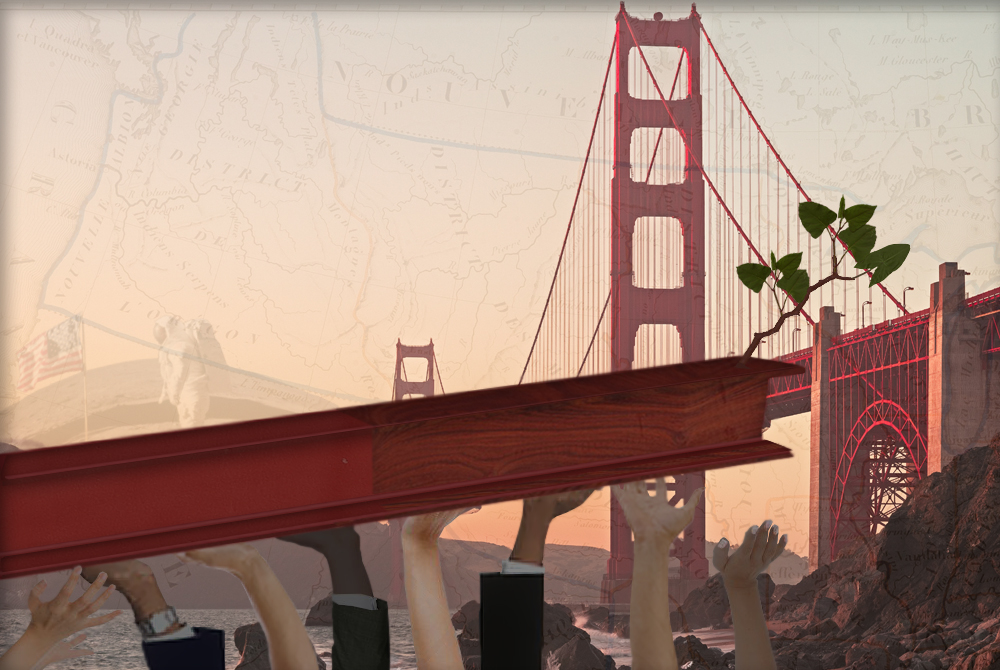 The $2 Trillion Infrastructure Plan: Lots of Rhetoric. No Reality.

 By Frank F Islam & Ed Crego, May 28, 2019
Push came to shove on May 22 in a 3-minute non-meeting in the White House between President Donald Trump and Democratic party leaders and the 2 trillion infrastructure plan collapsed, blown apart by the tornadic winds from the President's mouth. The demise of the alleged plan was predictable, because from the start it was built not on strong pillars with deep pilings, but on a house of cards in which the joker was wild.
The victim of all of this was the nation's infrastructure, which will continue to crumble and decay and to be legislatively ignored, as it has been for the past decade and more. This condition continues in the face of widespread cross-cutting support for an infrastructure bill. For example, on May 21, strange bedfellows Thomas J. Donohoe, President and CEO of the U.S. Chamber of Commerce, and Richard Trumka, President of the AFL-CIO, published an op ed in the Washington Post calling for "action on infrastructure, not more talk."
Trumka and Donohoe got what they called for on May 22, but not in the manner they requested. President Trump's action was to throw a tirade and storm out of the so-called infrastructure meeting, with no talk permitted from the Democrats.
In the Rose Garden of the White Hose, Trump explained that he did this because of House Speaker Nancy Pelosi's comments to reporters before coming to the White House that he was "engaged in a coverup" on the Mueller Report. He declared that he could not proceed to work with the Democrats "under these circumstances."
The President was probably partially accurate in citing this as a reason for not going forward with the infrastructure discussion. But "these circumstances" are only the tip of the iceberg; there were other circumstances below the waterline that would have sunk a $2 trillion plan that may also have contributed to the President abruptly doing an about-face.
Looking at this subject in a broader and more holistic context, what has been going on — or we should say not going on — with the infrastructure provides an insight into the gridlock that has intensified in Washington, D.C. during Trump's tenure as President. Let's examine this retrospectively, beginning with the April 30 meeting between President Trump and the Democratic leadership that launched the $2 trillion infrastructure discussion, and look backward from there.
After the April 30 meeting, House Majority Leader Nancy Pelosi, Senator Chuck Schumer and other Democratic congressional leaders came out to the White House driveway to announce that the President had agreed to pursue a $2 trillion infrastructure plan. On the weekend following that meeting, President Trump tweeted that "…I am looking hard at a bipartisan plan of $1 to 2 trillion dollars. Badly needed."
Unfortunately, there was no real plan at this point. What existed were broad parameters for a potential plan, and an agreement to get back together in three weeks to discuss such a plan.
When it came to actual progress toward getting a passable piece of legislation in place to improve America's crumbling infrastructure — as Yogi Berra would put it — it looked like déjà vu all over again. Put another way: been there, not done that.
Trump has done considerable talking about improving the infrastructure during his campaign for the presidency and since he has been in office. As a candidate in 2016, he proclaimed that improving the infrastructure was one of his top priorities, but called for no federal funding. Instead, he said he would raise $1 trillion in private investment dollars by offering $137 billion in tax credits.
Throughout 2017, as President, Trump re-affirmed his infrastructure improvement intentions regularly but took no real substantive actions. Finally, in mid-February of 2018, the Trump administration did roll out a plan which invested only $200 billion federal dollars, with the thought that amount would raise at least $1.5 trillion in investments from state, local and private sources.
At that time, we labeled that proposal the "smoke and mirror infrastructure plan". The reasons we gave it that name were: the requested funding was inadequate to the size of the need; the level of federal funding was insufficient, the incentives program for spurring investment was unrealistic; the needs of inner cities and mid-size cities were ignored; and the potential privatization of public assets was ill thought-out.
For a variety of reasons, that so-called plan went nowhere. Not the least of which was the fact that there was only nominal Republican support for the President's plan, at a time when they controlled both the House and the Senate and probably could have gotten an infrastructure bill through if they had wanted to do so.
In late February after the Trump plan was proposed, Senator John Cornyn was asked if Congress would get an infrastructure bill passed before the November elections, he responded:
It will be challenging. I certainly would be happy if we could, but we've got a lot of things to do, that being one of them, and I don't know if we will have time to get to that.
If the support for that bill in 2018 was lukewarm, the Republican interest in the conceptual discussion between the President and the Democratic leadership on a potential infrastructure plan is frigid.
During an interview with Maria Bartiromo of Fox Business Network, Mick Mulvaney, the President's Acting Chief of Staff, expressed serious reservations regarding an infrastructure deal, and stated that he thought the Mexico-Canada Trade Agreement had a "much better chance" of getting passed than an infrastructure bill. Representative Mark Meadows (R N.C.) told The Hill"You would have to do a gas tax to get it and we're not for a gas tax."
So at that juncture, a $2 trillion plan was primarily a product of the President's thinking and negotiating style and the desire by the Democrats to get some traction on infrastructure improvement going into a national election year. It would have had to become much more than that in order to be crafted into a bipartisan piece of legislation that stood any chance of passage as a bill. The problem is that the perspectives of the Republicans and Democrats on what is important in an infrastructure bill are radically different.
The Democrats come at this with a focus that includes roads, bridges, water, mass transit and broadband in order to create millions of jobs, and an emphasis on dedicating funds to address clean energy and climate change issues. They would probably propose to pay for a plan primarily by raising the corporate tax rate to 25 percent and reversing numerous tax cuts in the American Tax Cuts and Jobs Act of 2017.
The Republicans in general don't disagree with the Democrats on the areas to be addressed through an infrastructure plan. On the other hand, they disagree considerably with the size of the plan, how it should be funded, and whether it could be afforded given the huge budget deficit.
When he came out dismissing the chances of a $2 trillion infrastructure bill passing, Mick Mulvaney suggested that something closer to $1 trillion might be appropriate. In terms of the funding, Republicans lean toward not using federal dollars and using techniques such as selling off governmental lands or privatizing governmental assets. Along these lines, Kevin McCarthy (R-CA), and others, cite the bipartisan Generating American Income and Infrastructure Now Act, which would sell off troubled Agriculture Department loans to raise revenue to pay for infrastructure improvements, as a way to proceed.
Finally, the Washington Post reported that Senate Majority Leader Mitch McConnell (R-KY) was opposed to passing any bill, regardless of the size. Put all of this together, and an infrastructure plan was dead on arrival.
In addition, conservative groups such as those in the Koch funded political network aligned to drive a stake through the heart of any bill. Immediately after a possible bill was announced, Brent Gardner, head of government affairs for Americans for Prosperity — part of that network — declared that infrastructure spending at the amount suggested was uncalled for and proposed that instead "…Washington lawmakers should cut the red tape and stop wasting the tax dollars we give them."
Conservative journalists such as Ramesh Ponnuru criticized the plan as well. In a Bloomberg Opinion column, Ponnuru went as far as to assert, "But the conditions of our infrastructure is already better than the political rhetoric suggests."
The American Society of Civil Engineers (ASCE) would disagree with Mr Ponnuru. Every four years it issues an Infrastructure Report Card. Its 2017 Report Card gave the U.S. infrastructure a grade of D+.
Joseph W. Kane and Adie Tomer of the Brookings Institution would probably disagree with Mr. Ponnuru also. In their well-researched piece on infrastructure spending between 2007 and 2017, they point out:
As the country enters an age where infrastructure maintenance needs are growing, and the spending has largely risen to meet those maintenance needs (especially at a state and local level), there has been a significant drop in capital spending. Not all places clearly have the capacity to pursue new projects or major upgrades. And, the federal government, with the exception of a major stimulus package like ARRA from nearly a decade ago, has generally not filled this gap either.
In other words, the federal government has been AWOL on the infrastructure and will most likely remain so now until after the national elections in 2020. This in spite the fact that:
The overriding reason that the federal government won't act on the nation's infrastructure now is because the deterioration of another form of infrastructure — our governmental infrastructure. Congressional dysfunctionality has been on the increase for more than a decade. The first two years of the Trump presidency, in which the President, acted as the divider-in-chief, not the uniter-in-chief, has added fuel to that dysfunctionality, and set aflame many of the agencies that could lead the implementation of an infrastructure plan.
This is where the nation stands today. Until such time as both sides of the aisle discover how to repair and mend their own infrastructure by tearing down the walls, smoothing the troubled waters, and building bridges between themselves, a $2 trillion infrastructure plan — or for that matter an infrastructure plan of any meaningful size and scope — for the United States of America will remain rhetoric and not a reality.