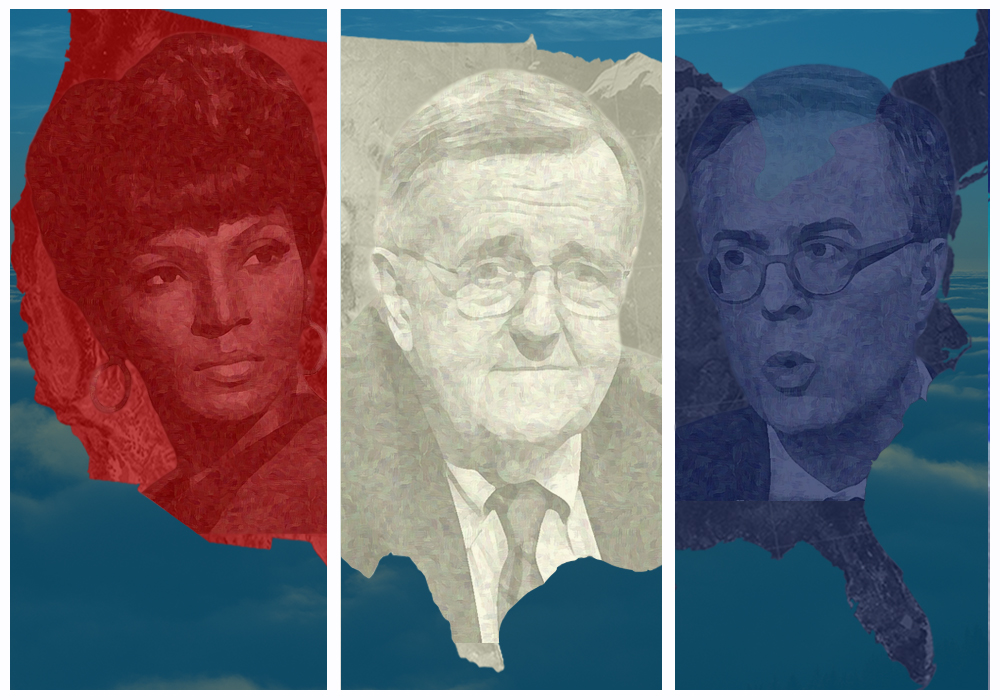 Nichols To Gerson To Shields

By Frank F Islam & Ed Crego, January 12, 2023 (Image credits: Tom de Boor, NASA, Adobe, et al)
As we move into the first month of a new year in these United States, it is a good time to reflect on who the nation lost in the old year and what was gained because of them. Those who come top-of-mind for us are Nichelle Nichols, Michael Gerson, and Mark Shields.
All three were good citizens. Each, in their own way, spoke to and influenced citizens of their and future generations to be good citizens as well. They led through words and example.
In these still highly polarized and divided times, lessons that can be learned about civic duty and responsibility by looking at each of their lives are more important now than ever. Therefore, let's focus first on Nichelle Nichols.
Nichelle Nichols: Shaping Space for Others
Nichelle Nichols died on July 30, 2022 at the age of 89.
She was an African-American actress who became tremendously influential because of her featured role as Lieutenant Uhura on the original "Star Trek" television series, which ran for just three years (1966–1969). That was just a short part of her personal trek but it provided the platform for her to shape space for others.
Ms. Nichols began her professional life as a teenager singing in supper clubs and dancing in performances in her hometown of Chicago. She went on from there to musical theater productions around the country before her time with Star Trek. After her tenure there, she continued to a career performing in many venues and appearing in the Star Trek movies made through the '70's into the early '90's.
It was the initial Star Trek years, however, that made the difference for her and many others. That opportunity to make a difference almost didn't happen.
After Star Trek's initial year on television, Nichols was considering resigning from the show. Then, at a NAACP event, she was told that her biggest fan wanted to meet her.
That fan was none other than Dr. Martin Luther King, Jr. He came up to Ms. Nichols and told her that he was her "greatest fan," and that her show was the only one that he and his wife would let their three young children stay up to watch.
During their conversation, Nichols told Dr. King that she was considering leaving the show. He asked her not to, explaining that she was serving as a role model and inspiration to young Black children and women across the country and that she "should not give up."
Ms. Nichols did not, and the rest is history. Dr. King was right, Nichols' presence in the role of Lieutenant Uhura was transformative, and what she did afterward magnified the transformation process.
Beginning in 1977, she began an association with the National Aeronautics and Space Administration (NASA) to help recruit females and minorities for space flight training and space exploration work. Women in Motion, a documentary about her life, states that she contributed to approximately 8,000 people applying to work at NASA.
Among those she inspired were the first American woman in space, Sally Ride, African-American astronaut Guion Bluford, and former NASA administrator Charles Bolden. Following her death, NASA administrator Bill Nelson released a statement, saying "At a time when Black women were seldom seen on the screen, Nichelle's portrayal as Nyota Uhura on "Star Trek" held a mirror up to America that strengthened civil rights."
Kyle Johnson, her only son, in announcing her death, stated, "Last night, my mother, Nichelle Nichols, succumbed to natural causes and passed away. Her light, however, like the ancient galaxies now being seen for the first time, will remain."
Michael Gerson: Preaching to the Choir
While Nichelle Nichols caused us to consider space, Michael Gerson caused us to consider heaven — and what is required to get there.
Michael Gerson died on November 17, 2022 at the age of 58.
The headlines, in both the New York Times and the Washington Post, described him as a speech writer and a columnist. Which he was. But more important than those jobs were his life and what he wrote about — primarily politics and faith.
Mr. Gerson was a devout evangelical Christian who believed there should be an intersection between the two to make this country, and the world, a better and fairer place for all. He used his public pulpits to preach to us all regarding that intersection.
Gerson studied theology at Wheaton College, an evangelical Christian College in Wheaton, Illinois, graduating in 1986. He held a number of important writing and politically-related positions until 1999, when he joined the George W. Bush campaign for president, in which he became not only Bush's chief speech writer, but also, because of their shared Christian philosophy and principles, a trusted policy advisor.
Working with President Bush, Gerson was central to the advancement of the compassionate conservativism concept, which espoused that conservative means could and should be used to achieve more liberal social justice concepts such as equality for all.
Gerson left the White House in 2006, and joined the Washington Post in 2007 to become a columnist where, as Brian Murphy writes, "…he wrote twice weekly columns that expanded his reach as a conservative distressed by populism and the politics of anger, and animated by the conviction that religion and social activism are powerful partners." In 2007, he also authored a book titled Heroic Conservatism: Why Republicans Need to Embrace America's Ideals. In that book he called out Republicans for not being constructive and positive enough in dealing with the nation's issues.
Fast forward more than a decade and one-half to September 2022 and Gerson would call out not the Republicans but his own brethren in a masterful opinions essay for the Post, titled "Trump Should Fill Christians with Rage. How Come He Doesn't?"
In his essay, Gerson examines the reasons the evangelicals have joined the party of Trump and its fringe elements, explains why they shouldn't have, looks back to the times of Jesus of Nazareth, at the precepts of the Christian faith, and concludes by stating "Christians seeking social influence should do so not by joining interest groups that fight for their narrow rights — and certainly not those animated by hatred, fear, phobias, vengeance or violence. Rather, they should seek to be ambassadors of a kingdom of hope, mercy, justice, and grace."
Michael Gerson was such an ambassador. He was also a truth teller about himself. In some of his later Post columns, he discussed suffering from depression and even spoke about his depression in a sermon at the National Cathedral in February 2019.
Michael Gerson preached to the choir, and for all of us who believe that despite our failings we each have a contribution that we can make to society.
Mark Shields: Keeping it Even Keel
Michael Gerson and Mark Shields were from different sides of the aisle but due, in part, to Shield's unfailing civility, they were able to meet in the middle.
Mark Shields died on June 18, 2022 at the age of 85.
Mark Shields was a lifelong practicing Catholic and committed Democrat. He graduated from the University of Notre Dame and, following that, volunteered and served two years in the U.S. Marines.
Early in his professional career, he spent more than a decade working on Capitol Hill and in Democratic political campaigns for candidates such as Robert F. Kennedy and Moe Udall. In 1979, he changed directions and moved to commenting on politics in both print and on television.
He joined the Washington Post editorial staff in that year and shortly thereafter his columns were syndicated nationally. He established his prominence, though, through his television appearances on CNN'S Capitol Gang and the PBS NewsHour.
The Capitol Gang show, which debuted in 1988 and concluded in 2005, sometimes got a little rough and tumble as co-host Shields engaged in exchanges with conservatives such as Robert Novak and Pat Buchanan. Because of Shields equanimity, however, it managed to stay even keel.
While Capitol Gang gave Shields national exposure, it was the PBS NewsHour that gave him the platform, for over 30 years, to develop a pre-eminent reputation and a loyal following. His bio on the NewsHour begins, "The Wall Street Journal has called Mark Shields 'the wittiest political analyst around," and "frequently, the most trenchant, fair-minded, and thoughtful." The Washington Post has called Shields "a walking almanac of American politics."
Consider those descriptions. What Mark Shields taught those who sat across from him on the NewsHour to present the conservative perspective, worked with him at the show, and all those who watched, is that "even the most contentious political issue could be discussed with respect and civility." And a sense of humor that created camaraderie.
Comments from his NewsHour colleagues made after his death provide great insights into who he was and the legacy he leaves behind. Here is a sampling:
Michael Gerson, who appeared on the show occasionally as Shields conservative counterpart, "…Mark went out of his way to show me kindness even in disagreement. And it would be hard to describe a political temperament more needed in our times."
David Brooks, who appeared regularly opposite Shields, "He taught me not just to think with my head…but to let your heart be bare and to react with your heart with the moral emotions you feel."
Hani Sreenivasan, senior correspondent, "Whether it was his political foil for the night or the producer or the camera person or intern, he treated everyone with respect."
Judy Woodruff, former anchor and managing editor: Mark…"had a magical combination of talents; an unsurpassed knowledge of politics and a passion, joy, and irrepressible humor that shone through in all his work."
Amna Nawaz, new co-anchor, "Whenever he was in the building, you could find him by following the sound of laughter."
And now we can find him in our memories — certainly with laughter, definitely with an appreciation of the example he set, and perhaps a few tears for the departure of this civic role model.
Nichelle Nichols, Michael Gerson, and Mark Shields were good citizens indeed. So too were three other prominent individuals who left us in 2022: Madeleine Albright, American diplomat and U.S. Secretary of State; Sidney Poitier, black Bahamian and American actor, director, and winner of the Presidential Medal of Freedom; and David McCullough, Pulitzer Prize-winning American historian and winner of the Presidential Medal of Freedom.
Add to this list of well-known good citizens who departed in this past year, the thousands of less well-known individuals in locations across this country who through their good citizenship advanced our American democracy and helped the nation make progress toward becoming a more perfect union.
Good citizens are difference makers. Those good citizens who left us in 2022 have provided the information and inspiration to help prepare more good citizens and to build a fairer and better future for all the citizens of this nation and world.