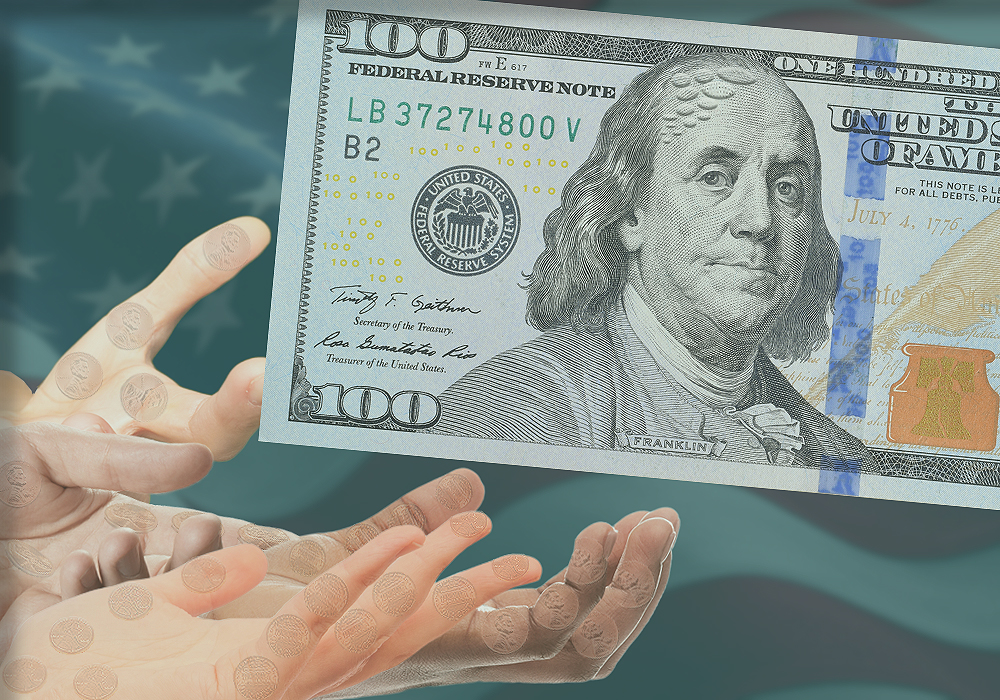 Moneypox And Labor Daze

By Frank F Islam & Ed Crego, August 30, 2022 (Image credits: Tom de Boor, Adobe, et al)
The outbreak of Monkeypox in the United States continues to worsen. It has been declared a national health emergency and the federal government is taking steps to reduce its spread through vaccinations.
Moneypox in our country also continues to worsen. We define moneypox as an infectious condition of the American economy in which those with considerable wealth get richer and those of lesser means get poorer. There are and will be no vaccinations that can be used to prevent or reduce its spread.
Given this, as we approach Labor Day, the question becomes: will the increasing severity of moneypox end America's labor daze? Will 2022 be the year in which the condition of economic inequality is appropriately diagnosed and the organized labor movement begins to recover and rebound?
The organized labor movement in the United States has been in serious decline for decades. The Union Members Summary released by the U.S. Bureau of Labor Statistics (BLS) in January of this year showed that the union membership rate for 2021 was 10.3%. This was the same rate as 2019. This rate is nearly 50% below the membership rate for 1983 of 20.1%, the first year for which there is comparable data.
Even more revealing, as Taylor Johnson points out in his January 25 New York Times article, is that union membership in the public sector between 1983 and 2021 stayed relatively stable at around one third, while private sector employment has "steadily declined" through the years from 17% to 6%. This decline continued in 2021 in spite of the intensifying economic inequality and the initial impact of inflation on the working class.
Associated Press reporter Stan Choe highlighted the nature of this inequality in a May article, which opens, "Even when regular workers win their biggest raises in decades, they look minuscule compared to what CEOs are getting." Choe points out that in 2021, CEOs for S&P companies' compensation packages went up 17.1% to a median of $14.5 million, compared to a mere 4.4% increase in wages and benefits for private sector workers. He also notes that "The raises for many rank and file workers also failed to keep up with inflation, which reached 7% at the end of last year."
As noted in an earlier blog, economic inequality and the gap between the wealthy and those of lesser circumstances is nothing new. Studies done by the Rand Institute and the Economic Policy Institute show that income distribution was relatively equal across all levels of pay before 1974. Since then, equity has disappeared.
The Rand Institute analysis found that if the distribution had stayed relatively comparable to the post-World War II period, workers at the 25th percentile would be earning $61,000 instead of $33,000. The EPI analysis revealed that if wages had tracked with hourly productivity, the average American worker would be earning $10 more per hour.
These are stunning differences, and help to explain why the union movement has secured victories in local contests with well-known organizations such as Amazon, Starbucks, and Trader Joe's. These union "wins" have gotten prominent press coverage. What has not been as well-covered is the fact that there is currently a groundswell in union representation petitions being generated across this country.
In a National Law Review article, Norma Manjarrez writes, "The Board (National Labor Relations Board) reported that during the first nine months of fiscal year 2022 (October 1, 2021 — June 30, 2022) 1,892 union representation petitions were filed at the NLRB — a 58% increase over the number of petitions filed in the first three quarters of FY 2021." She goes on to comment that this number of petitions is "…greater than the annual number of petitions filed in each of the last five fiscal years."
This is an indication that while the labor movement may not be completely out of its labor daze, it has definitely begun to emerge from the haze. The public's support for unions is growing. A Gallup poll released before Labor Day in 2021 showed the highest approval rating for unions for since 1965, with 68 percent of those surveyed overall approving, and 77% of young adults (18–34) approving.
It also appears that the younger generation is not only supportive of unions, some of its college-educated workers are leading union organizing drives. In an interview with Ian Prasad Philbrick of the New York Times, Noam Scheiber, who covers workers and labor issues for the Times, states, "College-educated workers often get the ball rolling, but they're pretty skilled at bringing together a diverse group."
This coalition, in conjunction with the current conditions described by Steven Greenhouse, senior fellow at the Century Foundation, and Harold Meyerson, editor at large for The American Prospect, in their June 9 American Prospect article, could very well make this a pivot point period for the labor union movement.
The factors that Greenhouse and Meyerson identify include:
A surge of youth-driven organizing in industries and companies that have not previously been organized
Joe Biden as the most pro-union president in U.S. history, and his appointees at the National Labor Relations Board
Millions of workers being angry because of how they were treated during the pandemic
The low unemployment rate emboldening others to demand better working conditions and wages
In their piece, Greenhouse and Meyerson cite the one major stumbling block to moving the union movement forward in a major and dramatic way at this point in time as organized labor itself. They state that:
According to labor leaders we spoke with, the three biggest unions in the AFL-CIO — The American Federation of State, County and Municipal Employees, the American Federation of Teachers, and the United Food and Commercial Workers — are saying all of the right things, but haven't yet stepped up to provide the money, lawyers, and other resources that are required to turn the current burst of unionization into a far larger, more lasting wave.
There is another primary obstacle to unionization, and that is the sophistication and deep pockets of the large employer community. In April after Amazon workers on Staten Island voted to unionize, The Harvard Gazette published an interview with Harvard labor economist Lawrence Katz, who was asked whether the successful unionizing efforts there and in other U.S. locations "could signal a new era of union participation after decades of decline."
Katz felt the Amazon victory was significant, but pointed out that due to employers' legal strategies, "The fraction of unions who win elections and then fail to get a first contract is substantial in the U.S…In maybe 25 to 30 percent of the cases where unions win elections they never get a first contract."
Katz observed, "Over the years a whole industry has developed of union avoidance and of consultants who specialize in helping employers form strategies to prevent unionization and defeat unions in National Labor Relations Board elections." He added, "… U.S. employers have learned very much over the past decades about how to defeat unionization efforts, even when it appears most of the workers want to be represented by union and desire a greater voice in the workplace."
In summary, in 2022 there are strong, fresh winds blowing which are developing and pushing the union waves forward. But the employers have built dams they will reinforce, and will build new and additional ones in an attempt to reduce the strength of those waves and to prevent them from reaching shore.
What will happen? Time and the interaction of these countervailing forces will tell.
What can be said today is that these are definitely changing times. As Greenhouse and Meyerson asserted in the final paragraph of their American Prospect article, "This is the first time in decades that America's workers have a real opportunity to increase their power after it has steadily eroded for half a century."
In our opinion, the union movement will be able to take advantage of this moment in time to reverse the decline of unions and to enable them to begin to rebound and recover. We do not anticipate, however, a rebirth of the union movement or the return to membership to what it was a half a century ago.
Our best guesstimate is that there will be incremental progress and growth in terms of the size and influence of organized labor in the decade to come. Because of the substantial strength of employers, we project that the dance for the unions will be two steps forward and one step back.
This conservative projection is made even more probable by big business continuing to replace full time employees with part-time employees and gig workers; the 28 states which have "right to work" laws which impede union membership; and the changing nature of work, with automation, robots, and technological applications replacing humans on the work floor across industry sectors.
On the last point, a recent Brookings Institution working paper titled Preparing for the (nonexistent?) future of work explored what to do "to future-proof our society for a scenario of ever-more-intelligent machines that substitute for human labor and drive down wages." The paper analyzes the potential for this scenario occurring at some point in the future, "culminating in the economic redundancy of labor."
The United States is not at that point today, but it is impossible to ignore the staffing reduction in places such as supermarkets, warehouses, and call centers across the country. Jobs are definitely disappearing and wages are being suppressed. This makes today's organized labor union movement even more critical to protect workers interests.
As Susan Dynarski reports in the New York Times, an important working paper was published in 2018 by four economists at Columbia University that disclosed their research found that "unions have constrained income inequality far beyond their own ranks." The economists discovered that this success of unions dates back to the 1930's, and the "union premium" of about 20% higher wages has held steady since the 1930"s."
It is August 2022 and while we don't believe the unions will ever regain the status that they once had (we would love to be proven wrong for the good of this nation and its citizens), they can make a major contribution to reducing our moneypox inequality. They must speak up and speak out now in this third decade of the 21st century to have a continuing impact in the decades to come.
That said, we close with the following thought from our Labor Day blog posted in 2019:
As the rallying cry for organizing various constituencies in the 1960's became Power to the People, the rallying cry in the 2020's could be Power to the Workers. Increasing this power is essential to strengthening and restoring not only workers' rights and equality but also the belief in the American dream, and the vitality and vibrancy of the American democracy itself.