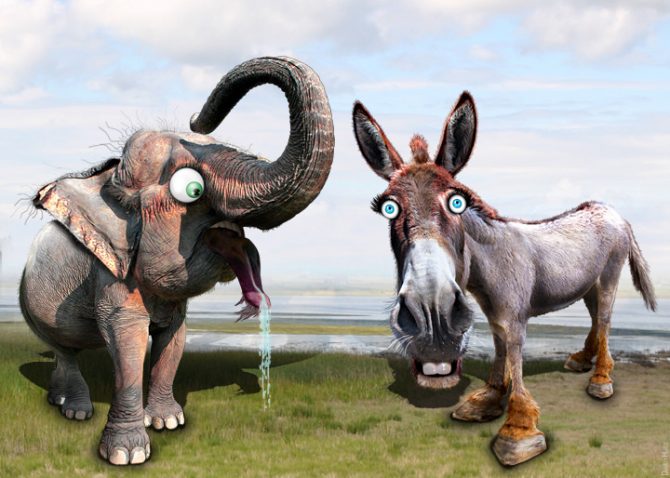 Midterms Perspective

 By Frank F Islam & Ed Crego, September 18, 2018
Originally published in The Moderate Voice
"I just hope there won't be any violence." That was Donald Trump's commenton August 29 about what to expect from the mid-term elections.
He made these remarks after warning his supporters earlier to beware of violence from the left if the Republicans won the mid-terms. This observation might be viewed as sincere, ironic, given the violence that Trump has wrought to date on the American psyche, or as a not-so subtle nudge toward violence by his supporters if the Democrats prevail.
The perspective all depends on who is looking and what they are looking at. Here is ours as the smoke starts to clear after Labor Day and we enter the electoral home stretch.
When Donald Trump was running for President he promised to drain the swamp. Instead, now that he is in office, he has made it deeper, darker and murkier. That is why these mid-term Congressional elections are important for both Democrats and Republicans, and much more importantly for the future of the United States.
The Republicans currently control both chambers of Congress. This gives them the capacity with Trump as the Republican President to move his agenda forward.
That agenda has included tax cuts that provide nominal benefits to the average citizen, and substantial benefits for the wealthy and large corporations, and the dismantling of Obamacare, the program that was designed to provide reasonably-priced health care coverage for all Americans.
Trump's agenda has also featured downsizing and changing the focus of domestic agencies that Democrats value highly, such as the Departments of Education, Interior, Labor, Housing and Urban Development, and the Environmental Protection Agency. This agenda, in combination with the President's offensive remarks regarding women, minorities and others with whom he disagrees; his attacks on national security agencies, such as the CIA and FBI: his refusal to truly acknowledge the considerable Russian interference in the 2016 presidential elections; his nomination of Brett Kavanaugh to be a Supreme Court Justice; and his tweets, and belligerent and bellicose behavior, have energized Democrats.
Republicans, in general, tend to less enthusiastic. The Trump "populist" base, which consists of approximately 35% of Americans, remains strong and avid supporters of Trump. They approve of everything that Trump does or says. Their allegiance is stoked by Trump's tweets, regular appearances on Fox, and the nearly three dozen campaign-style rallies with thousands of attendees at each that he has held in states across the country since he was elected President.
Trump has used his popularity with his base to influence, gain, and exercise considerable control over the Republican Party. Indeed, some pundits have labeled it the Party of Trump.
That might appear to be an overstatement. But the Gallup poll conducted in the period from September 3 to September 9 showed that 85% of Republicans approved of President Trump's performance as President. This compares to only 9% of Democrats.
This great divide in opinions, values, and attitudes defines the perspective. These mid-terms are a pivot point. While they will be decided at the local and state level based in part upon the qualifications of the candidates and regional issues, they will also definitely be a referendum on the Trump presidency.
The question becomes which party will prevail in the elections on November 6? There will be no definitive answer to that question until all the votes are cast and counted. The answer that can be given at this point is that it will boil down to who carries and wins in the "swing" or "toss-up" districts and states.
Of the 435 house districts, two leading U.S. polling firms (the Cook Political Report and Sabato's Crystal Ball)classified between 80–100 as swing districts, with approximately 30 of those being "toss-up" districts. States with the most toss-up districts in both polls were California with 5 and Minnesota with 4. Other states with more than 1 competitive district in these polls were Illinois, Kansas, New Jersey, New York, Texas, and Virginia.
After Labor Day, these two polling firms felt that the race for control of the House was close, but gave an advantage to the Democrats to win the 24 seats they need to take over there. In that same time-frame, Fivethirtyeight, a research firm that does projections employing its statistical analysis of the findings of a plethora of polling organizations, set the odds of the Democrats winning control of the House at 5 in 6 (83.1%) and the Republicans keeping control at 1 in 6 (16.9%).
The bottom line is that the experts give the Democrats the edge for winning back the House. Given our own analysis of the most recent polling and mood in the country, however, we would not be surprised to see the Democrats win big nationally with 30–40+ seats in the House races.
This assessment is based upon the following factors:
The conviction of Paul Manafort, the President's campaign manager, for bank and tax fraud in August and his September plea deal on two felony conspiracy charges.
Michael Cohen, the President's personal attorney and "fixer" turned "flipper" pleading guilty to several criminal charges for financial malfeasance, and stating in two of those charges that when Trump was a candidate, he directed him to pay women to silence their talking about his affairs with them.
A recent CNN poll finding that the American public approved of Special Counsel Robert Mueller's investigation by a margin of 51 to 38%.
Trump's continuing to receive a very low approval rating of 40% in the weekly Gallup poll and four recent polls showing Trump's approval below 30%: CNN — 36%; Quinnipiac -38%; Washington Post/ABC — 38%; and Kaiser — 37%.
Dan Balz in his Labor Day article for the Washington Post states that Public Opinion Strategies has "concluded that the president's approval rating needs to be at least 45 percent in Election Day polls for Republicans to have a chance to maintain control of the House." If this conclusion is correct, the Republican's goose is unquestionably cooked.
In the Senate, 35 out of the 100 seats are up this election cycle. 26 of these seats are currently held by Democrats and only 9 by Republicans. The Cook Report and the Sabato's Crystal Ball agreed on six toss-up states: Arizona, Florida, Indiana, Missouri, Nevada, and North Dakota. Cook added Tennessee and West Virginia to its toss-up list.
The present representation in these eight states breaks out as follows: Arizona and Tennessee are open seats, Florida, Indiana, Missouri, North Dakota, and West Virginia currently have Democratic senators, and Nevada has a Republican.
In mid-September, Fivethirtyeight said there was a 1 in 3 chance (32.5%) that the Democrats would gain the 3 seats they need to win control of the Senate, and a 2 in 3 chance (67.5%) that the Republicans would keep control. Given the large number of Democratic seats at risk, and the fact that there are five Democratic seats in the toss up category, these odds seem correct.
That's our assessment now. But, the election is still over a month and one half away. As an old saying goes — in political elections, one day can be a week, one week can be a month, and one month can be a year.
With more than a month to go, who knows what can happen. What we do know is that on September 11, the Republican leadership was nervous. That is when Senate Majority leader Mitch McConnell told reporters, "I hope when the smoke clears, we'll still have a majority."
The interesting fact, from a legislative standpoint, is that it doesn't matter whether the Republicans retain control of both chambers of Congress, the control is split, or the Democrats gain control. The reason for this is that for nearly a decade Congress has been suffering from congressional dysfunction. There has been little across the aisle compromise and not much legislation has been passed.
Where the control will matter is in terms of support for the President's agenda. President Trump will continue to govern, as he has primarily to this point, through executive order. A Republican majority in both chambers will aid and abed those orders and might occasionally pass legislation to support them. Split control would mean endless battles with one chamber blocking or reversing the actions put forward by the other.
The most intriguing possibility is Democratic control of both chambers, which would undoubtedly produce, among other things, attempts to curb Trump's immigration proposals and to reverse his Obamacare interventions. And, depending on what Special Counsel Robert Mueller finds, might even lead to articles of impeachment.
In sum, the U.S. mid-term elections matter not because they will bring about dramatic changes in law-making, but because changes in the law-makers will influence the tone and tenor of our national dialogue and the attitudes of the American public.
Continued Republican control will reinforce the darkness and murkiness of that conversation and the quagmire that Donald Trump has created. Split or Democratic control will signal that sun will come out tomorrow, and that swamp which has been made much scummier by this administration is truly starting to be drained.
Which will it be? The citizens of the United States and the world will know on November 6. After that, there will be no more conjecture, just the consequences to come.