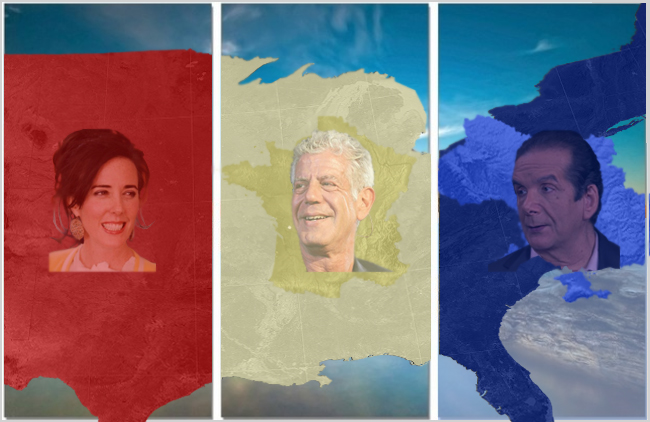 American Trilogy

  By Frank F Islam & Ed Crego, June 29, 2018
Within less than one week's time in early June, Kate Spade and Anthony Bourdain committed suicide and Charles Krauthammer announced he was dying. Krauthammer passed away on June 21.
These well-known Americans have little in common. But their lives say much about them and our American culture.
Fashion designer Spade lived life imaginatively. Celebrity chef Bourdain lived life out loud. And political columnist Krauthammer lived a life of reflection.
Spade and Bourdain appeared to be almost polar opposites in terms of personalities. Yet they were united in being tormented by demons and choosing to die by suicide.
Kate Spade was a girl from the Midwest, who grew up in Kansas City, Missouri. Her father, Earl Francis Brosnahan, owned a road construction company. She graduated from Arizona State with a degree in journalism in 1985.
She went from there to New York City to become an accessories editor at Mademoiselle magazine in the early 1990's. It was at that time that she met and moved in with her husband-to-be Andy Spade.
During her tenure at Mademoiselle, Spade noticed that most best-selling handbags in the U.S. were European and ostentatious. She concluded that there was an unaddressed need — a gap. In spite of having no design experience, she decided to fill that gap by creating handbags that were both functional and stylish.
In a business collaboration with her husband, she launched their handbag line in 1993, bringing to market handbags that were fun, fashionable, and sometimes funky. The rest is history.
Kate Spade handbags became almost ubiquitous and essential accessories for women in the know. Their skyrocketing sales provided the platform to build a robust fashion line, including everything from women's shoes to perfumes.
The Nieman Marcus Group purchased 56 percent of the Kate Spade brand in 1999 and the remaining 44 percent in 2006. Kate Spade took nearly a decade off to raise her daughter Bea.
During this period, she started the Kate Spade and Company Foundationfocused on the economic empowerment of women. The Foundation has three areas of concentration: women in entrepreneurship; women in technology; and women in the arts.
In 2016, with her business partners she launched a new collection of handbags and footwear under the brand name Francis Valentine. In that same year, she also took the surname Valentine, which was her grandfather's middle name.
Those who knew Kate in her early years speak of her energy, enthusiasm and sense of humor. They also admired her entrepreneurial spirit and instincts.
Throughout her life, Kate Spade lived in the world of the fashionable. By contrast, Anthony Bourdain lived in the world of the unfashionable.
He took us to Parts Unknown. Articles written about him after his deathreferred to his image as that of an "alpha male," "bad boy," and a "renegade."
Bourdain was born in New York City in 1956 and grew up in New Jersey. His parents were born in France. His father was an executive in the classical music industry. His mother became an editor for the New York Times.
Bourdain followed his high school girl friend, Nancy Putkoski, to Vassar College in 1975, where he spent evenings drinking heavily and smoking marijuana. He dropped out and went to the Culinary Institute of America from which he graduated in 1978.
Over a period of almost two decades, Bourdain worked his way up the cooking hierarchy to become the executive chef at the two prestigious Les Halles restaurants in Manhattan. While chef was his stated occupation, Bourdain's vocation was to be a participant-observer, commentator, and insight provider.
He first expressed his vocational instincts in an article that he wrote for The New Yorker in 1999, disclosing the dark side of the conditions of work for cooks, dishwashers and kitchen help in New York City. Following that, in 2001, he wrote his best-selling memoir, Kitchen Confidential: Adventures in the Culinary Underbelly.
Bourdain's writing provided the basis for launching his TV career ostensibly about food and travel but actually about experiencing, experimenting, and empathizing. His first award-winning TV show No Reservations ran on the Travel Channel from 2005–2012. After that, Parts Unknown ran on CNN from 2013 to the present.
In 2015, Bourdain announced a plan to open Bourdain's Market, a spot for wholesale and retail food vendors to sell their wares on a pier in New York City. The plan never came to fruition.
Bourdain was married twice. He married his high school sweetheart in 1985. They divorced in 2005. In 2007, he married Ottavia Busia, and they had a daughter, Ariane, who is 11 now.
At the time of his death, he was dating the actress Asia Argento, who gave a speech at this year's Cannes Film Festival in which she stated film mogul Harvey Weinstein had raped her in Cannes in 1997.
On TV, Bourdain could frequently be seen doing things that could be thought of as outlandish or outrageous. In his public life, he was outspoken about the needs first of the working class and most recently in support of the #MeToo movement.
During their lives, Bourdain and Spade were very much in the public eye, but they were alone in their solitude. Only they will ever know the degree to which and why they were suffering.
After Kate Spade's death, her husband released a statement in which he acknowledged, "Kate suffered from depression and anxiety for many years. She was actively seeking help and working closely with her doctors to treat her disease, one that takes far too many lives."
There was no similar disclosure about Anthony Bourdain. But Eric Ripert, the celebrity chef who was traveling with him at the time of his suicide, told Bourdain's mother that he had been in a "dark mood for the past couple of days." It is also reported that Bourdain was "regularly suicidal" after the end of his first marriage.
There have been a raft of new articles about suicide since Spade and Bourdain took their lives. Almost all highlight that suicide in the United States has gone up by approximately 25 percent since 1997 and go on to examine the factors that contribute to taking one's life and the substantial increase here in the U.S.
There are no definitive answers, and each incident is an individual act and should be considered and treated as such. But factors that consistently rise to the top of the list, as Andrew Solomon notes in his article for The New Yorker,are "clinical depression", an "alienating modernity," and "isolationism."
At the time of her death, Kate Spade had been living separately from her husband for ten months, with her daughter Bea moving alternately between mother and father. At the time of his death, Anthony Bourdain was by himself in his hotel room in the Le Chambord, a luxury hotel in Kayserberg, France. They died alone.
We never knew their minds. But we do know that of Charles Krauthammer, because through the years he has opined intelligently and honestly on many important topics.
Krauthammer may be best known today by many Americans for his comments as a panelist on Fox News Special Report. He got his start and built his substantial reputation, though, in writing and the print media.
Krauthammer was born in New York City in 1950. His father came from the Ukraine and his mother from Belgium. They were Orthodox Jews.
The family spoke French at home. The Krauthammers moved to Montreal in 1955, where Charles went to primary and secondary school and graduated from McGill University with a degree with honors in economics and political science. He went from there to Balliol College, Oxford in England to study politics for one year.
After that, Krauthammer went to Harvard to go to medical school. In his first year there, he had a diving board accident that paralyzed him from the neck down and kept him wheelchair-bound for the rest of his life.
Nonetheless Krauthammer persisted and got his medical degree in psychiatry, becoming a pioneer in developing the concept of "secondary mania," manic syndromes distinct from bipolar disorder ranging from epilepsy to infection to metabolic disturbances. After that he moved to Washington, D.C. to direct planning in psychiatric research in the Carter Administration.
In Washington, Krauthammer began to turn his attention from things medical to things political. He started contributing pieces to the New Republic and became a speechwriter for Walter Mondale in 1980.
As a writer and editor for the New Republic, his essays won the National Magazine Award in 1984. In 1987, after writing for the Washington Post for three years, he was awarded the Pulitzer Prize for his "witty and insightful insights on national issues." In 2006, the Financial Times named Krauthammer the most influential commentator in America.
Krauthammer was influential for all those decades because of his thought leadership and independence. In a 1983 article for Time, he coined the term "the Reagan doctrine" to refer to America's support of anticommunist initiatives in countries around the world.
On the one hand, Krauthammer was an unabashed supporter of the Iraq war and the surge. On the other, he supported a two-state solution to the conflict between Israel and Palestine.
Although he was confined to a wheelchair, Krauthammer achieved a state of independence. He had a van designed and built so that he could drive it to work at Fox News himself and also frequently drove himself to watch his beloved Washington Nationals play basketball.
Over the years, Krauthammer evolved from primarily a liberal Democrat, to a moderate, to a "neoconservative" Republican. No matter what label Krauthammer was given, though, his positions and pronouncements are uniquely his own. He had a singular voice.
He used that voice to let the world know that he was dying and had only a few weeks to live in "A note to readers" in the Washington Post on June 8. In his note, Krauthammer observed, "This is the final verdict. My fight is over."
He went on to state:
I believe that the pursuit of truth and right ideas through honest debate and rigorous argument is a noble undertaking. I am grateful to have played a small role in the conversations that have helped guide this extraordinary nation's destiny.
I leave this life with no regrets. It was a wonderful life — full and complete with the great loves and great endeavors that make it worth living. I am sad to leave, but I leave with the knowledge that I lived the life that I intended.
In spite of his physical handicap, life was worth living for Charles Krauthammer. In spite of their substantial accomplishments, it was no longer worth living for Kate Spade and Anthony Bourdain.
These three enterprising Americans chose differently and traveled different paths in their careers and lives. But they are bound together in an American trilogy.
They represent the diversity and differences of our multifaceted culture, who we are and what we can be as Americans. Together, they demonstrated the unrivaled potential of dreamers, believers, aspirers, strivers, and achievers in this country.
Kate Spade, Anthony Bourdain, and Charles Krauthammer. We were blessed by their presence and we will miss them in their absence.
The truth is really out there.