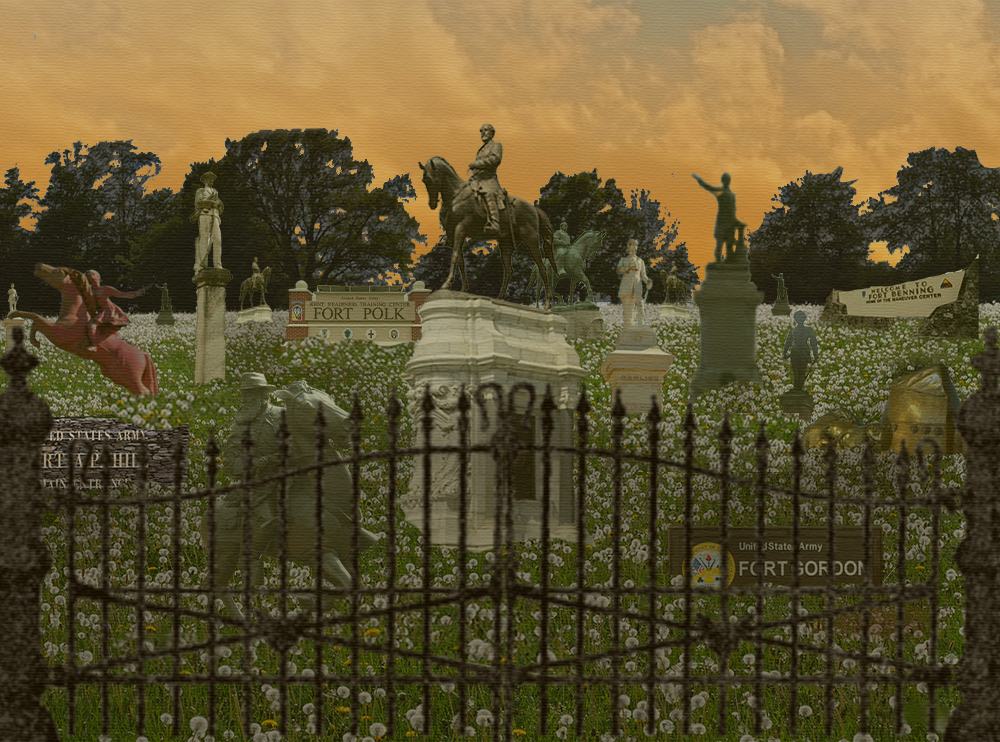 A Monumental Undertaking

  By Frank F Islam & Ed Crego, July 7, 2020
The killing of George Floyd has resulted in actions of various types against historical statues in the United States that may celebrate or demonstrate bigotry or racial bias. These actions have sparked a national conversation on what to do because of those statues.
In our opinion, the statues under scrutiny are America's statues of limitations. They are part of America's history. They communicate messages intentionally and unintentionally regarding the historical limitations of this nation and the persons they represent.
The statues that have been acted upon include not only the usual suspects, such as representations of Robert E. Lee, Jefferson Davis and Stonewall Jackson, but also of George Washington, Thomas Jefferson and Ulysses S. Grant. What these actions have revealed is that what is in our American memories regarding these figures may be incomplete and/or inaccurate. Consider the following examples.
Many of the statues that have been assailed fall into a category known as Lost Cause Confederate Statues or Monuments. The majority of these statutes were erected in the South in the early 20th century with the support of the United Daughters of the Confederacy. Their purpose and placement were to reposition the Civil War defeat as a valiant and worthy effort, as well as to ensure that whites returned to power while black progress and the potential for integration was retarded.
White superiority and racially insensitive attitudes in the U.S. have not just been restricted to the South. In spite of all his notable accomplishments, Theodore Roosevelt considered blacks inferior to whites. There is a statue of Roosevelt mounted proudly on a horse with a Native American on one side and a Black American on the other side that has stood at the entrance to the American Museum of Natural History since 1940. Because of its hierarchical depiction, the optics of that statue have been a cause for concern and controversy for some time. On June 21, the Museum asked the city to remove Roosevelt's statue from its entrance.
Likewise, on June 28, Princeton University decided to remove Woodrow Wilson's name from the building that has housed the Woodrow Wilson School of Public and International Affairs at the University. According to Princeton President Christopher L. Eisgruber, the Board of Trustees made that decision because, "…racial thinking and policies make him an inappropriate namesake for a school or college whose scholars, students, and alumni must stand firmly against racism in all its forms."
In 2020, the times are changing. Statues that have survived over a century are being removed, toppled, defaced, or otherwise confined, if not to the dustbin of history, to an uncertain fate. The question becomes what is the proper manner to deal with the remaining statues that for a variety of reasons may be offensive.
Some advocate destroying or warehousing them. The Washington Post advises in an editorial to make it a matter for public discussion. The Post observes that this should not be the province of "… a crowd in the middle of the night, consisting not always only of good faith protesters but also of chaos-hungry opportunists." Instead, it recommends, these "…are determinations suited for democratic and deliberative decision-making."
We concur with the Post's position. We would take it one step further, though, because this is about much more than statues. This is about American history.
It is a chance to make the historical record complete and to promote learning among current generations and for generations to come. This is a teachable moment and it needs to be treated as such.
That is the point Pulitzer Prize winning art critic Holland Cotter makes in his article for the New York Times in which he writes, "…the disposal of monuments should be approached case by case…It's necessary for history's sake, that we first stand back, look hard and sort them out."
In his piece, Cotter proposes that the Roosevelt statue be removed from the entrance at the National History Museum and displayed in a slightly modified version accompanied by a detailed historical examination and explanation of it in one of the Museum's galleries. In its editorial, the Washington Post states that while some statues might go into museums, "Others might reside in an outdoor space committed to cataloging a disgraceful era; Lithuania's Grutas Park displays more than 80 statues that communists installed when the country was controlled by the U.S.S.R."
The importance of viewing these statues in a historical perspective is highlighted by the debate regarding the "Great Emancipator" Statue — also called the Freedmen's' Monument — of Abraham Lincoln in Lincoln Park in the Capitol Hill area of Washington, D.C. The statue was erected in 1876 and shows Lincoln standing with the Emancipation Proclamation in his hand over a kneeling black man who is breaking his chains.
Protesters have recently called for the removal of the monument because it does not project the proper image of the black man in relationship to Lincoln. D.C. Congresswoman Eleanor Holmes Norton has questioned the statue's design. And, D.C. mayor Muriel Bowser has stated that the city should debate the removal of the statue.
What makes this debate of particular import is that the iconic black leader and orator Frederick Douglass spoke at the unveiling of the Emancipation memorial. Douglass was equivocal in his praise for Lincoln in his commentary. On the one hand, he said,
… we, the colored people, newly emancipated and rejoicing in our blood-bought freedom, near the close of the first century in the life of this Republic, have now and here unveiled, set apart, and dedicated a monument of enduring granite and bronze, in every line, feature, and figure of which the men of this generation may read, and those of after-coming generations may read, something of the exalted character and great works of Abraham Lincoln, the first martyr President of the United States.
On the other hand, he said:
Abraham Lincoln was not, in the fullest sense of the word, either our man or our model. In his interests, in his associations, in his habits of thought, and in his prejudices, he was a white man. He was pre-eminently the white man's President, entirely devoted to the welfare of white men. He was ready and willing at any time during the first years of his administration to deny, postpone, and sacrifice the rights of humanity in the colored people to promote the welfare of the white people of this country.
What Douglass was saying was that Lincoln was not perfect and he was providing a history lesson in his dedication remarks. It is a lesson worth hearing and learning.
Most Americans have only a superficial knowledge of history and much of what we have learned has been filtered through a white lens. This is a chance to change that, not by revising or rewriting the history of the United States, but by getting history right and presenting it through a technicolor lens and in 3-D.
One of the ways this can be accomplished is by putting together a collection of photos and readings or a book on the Statues of America similar to the book John Meacham and Tim McGraw authored, Songs of America: Patriotism, Protests and the Music That Made a Nation. In his New York Times article, Holland Cotter reports that in 2019 the American Museum of Natural History produced a documentary on the Theodore Roosevelt statue "…which details the work's history and includes commentary by contemporary ethnologists, social historians, art historians and artists."
Imagine something comparable available to the America public for information and educational purpose. Imagine a segment of a civics or history curriculum for students in their later elementary and middle school years devoted to America's statues, to inform and inspire them to inquire about why the statues exist, what they represent, what stories they tell, what stories they do not tell, what new stories need to be written, and how actions should be taken to address past deficiencies and discriminations.
Imagining does not change things but not imagining means that nothing ever changes. In the year 2020, the United States appears to be poised to address its statues of limitations. This should be a monumental undertaking structured to engage all concerned and caring citizens. To maximize its impact, the undertaking should reach students in classrooms when their essential knowledge, skills and dispositions, and enduring values, attitudes and beliefs are being shaped.
Properly prepared and equipped, those students will shape the nation's future. They will create a more inclusive and perfect union. They will construct America's statues of tomorrow as ones of opportunity and equality and not of limitations.